Wow, the end of September and I am only just about to blog about Fathers' Day lunch. I promise you, the wait is worth it; our family lunch at
Sugaroom
on a Sunday afternoon was fantastic.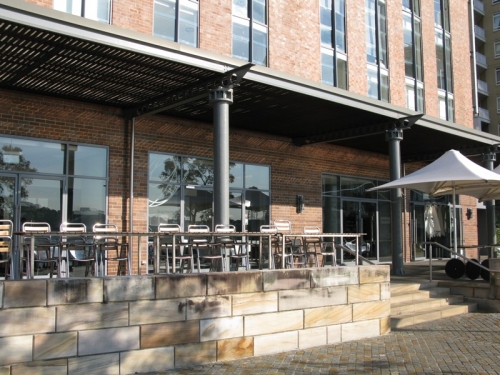 The wind was roaring, all the outside tables and chairs packed away to stop them ending up in Johnston's Bay. Entering the calm of the restaurant was a relief, and the comfy table up against the floor to ceiling windows meant we got the sunshine and didn't miss out on the lovely views.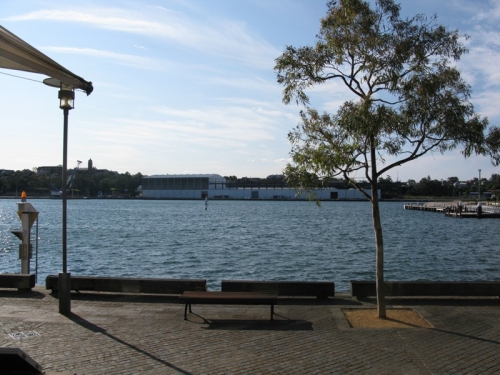 My dad received an awesome Ferrero Roche bouquet from my brother and sister-in-law courtesy of
Lollypotz
. Yum... :)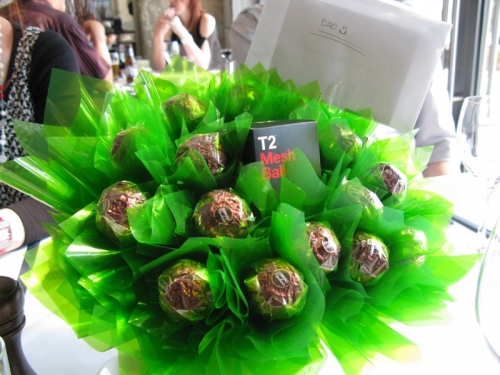 Super giant stemware, I wish I could say what wine was being drunk but I was soaking up the cushiness of the seating and studying the menu so I missed what was ordered.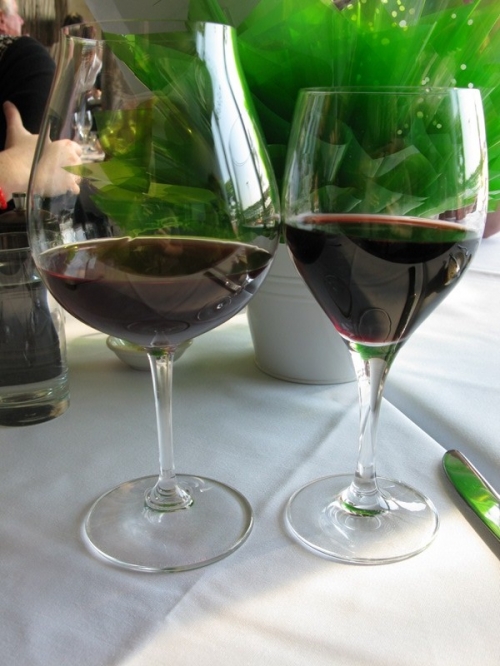 My selection: housemade gnocchi, basil pesto, Persian feta with shaved parmesan ($30.80).
This was seriously tasty. The gnocchi was so soft and pillowy; forks kept sneakily heading towards my plate to pinch mouthfuls. The flavours were simple and classic and done very well.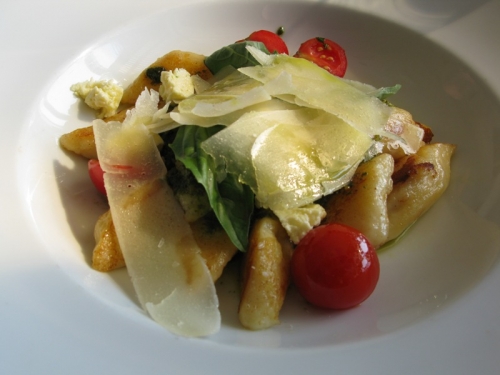 The char grilled beef fillet with potato gratin, truss tomato and red wine jus ($40.70) was another classic combination that was perfectly cooked and well presented.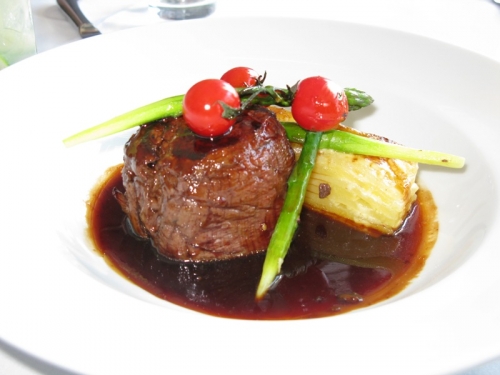 The dukkah crusted lamb loin with baby beetroots, eschallots and pomegranate reduction ($39.60) packed a huge flavour hit. I love baby beets and took my revenge for stolen gnocchi and pinched a couple of these.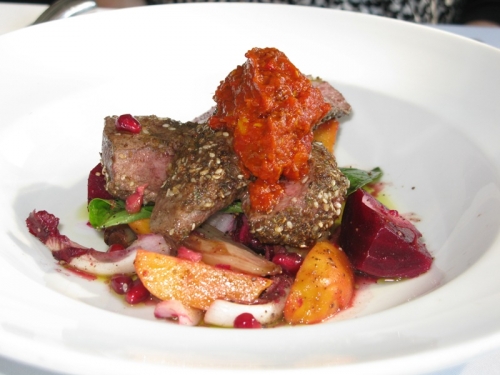 Pan roasted snapper fillet, green beans, garlic mash and caper beurre noisette ($38.50). I didn't try the snapper, but the garlic mash was super creamy and worth a second sneak attack.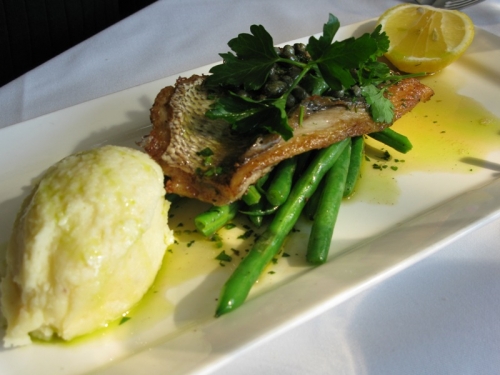 Grilled Atlantic salmon, pomelo, carrot and fennel salad with Sicilian olive tapenade ($37.40). The only dish I didn't try, absorbed as I was in defending my plate and launching my own attacks, but it was deemed delicious by the orderer.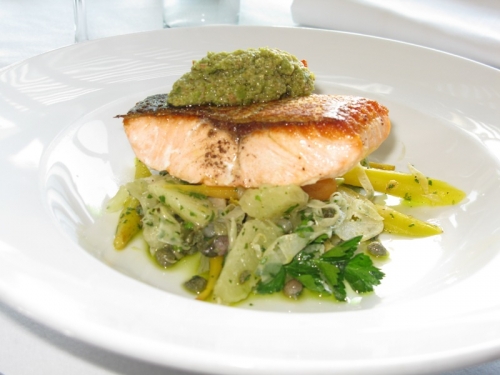 I did however eat most of the shoestring fries ($8.80)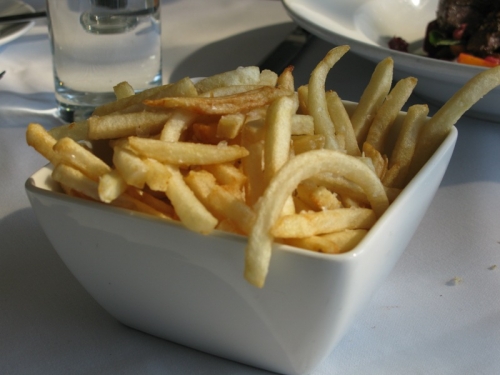 and the steamed beans with toasted almonds ($8.80) which, to quote R, were "cooked and seasoned wonderfully".
All this build up is leading to the main event: dessert! We ordered two off the menu and two specials to share between five (all $17.60). I couldn't pick a favourite, they were all great, but I would recommend sharing the chocolate ones, they are very rich. :)
Apple rhubarb and coconut crumble with vanilla bean ice cream.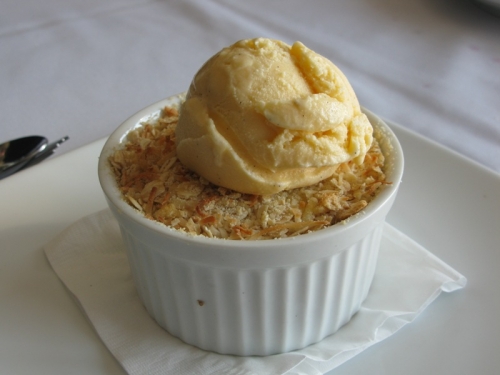 Vanilla bean panna cotta, spiced cherries and clove shortbread. Gorgeous presentation!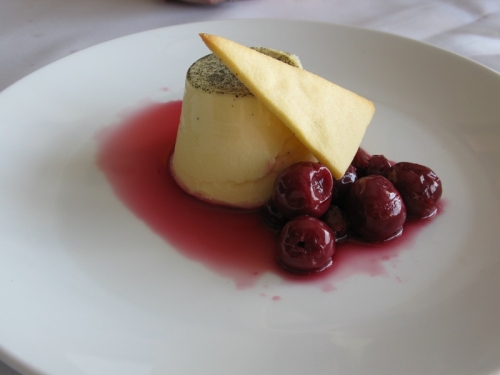 A rich chocolate tart with a cherry ice cream if I remember correctly. Once again, the presentation was beautiful.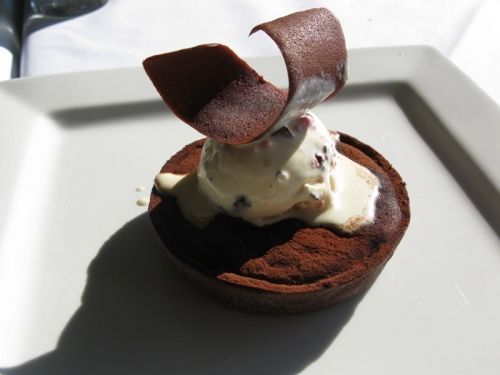 Chocolate parfait with vanilla bean ice cream and toffee.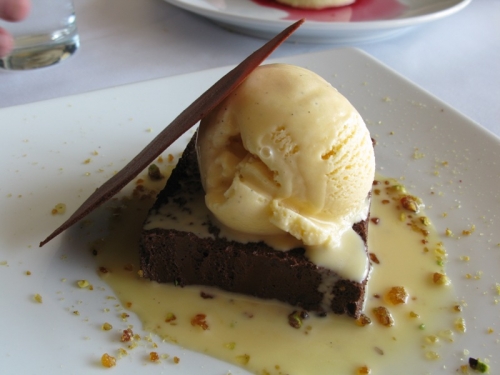 I know this whole post sounds very positive, but really, there was nothing to fault here. The meals were lovely, the service was polite and not at all pushy (we were last to leave the lunch rush by a long time, and the staff just calmly prepared for dinner around us without hinting we should leave, great for a family that can't get together often anymore), and the comfy seats, great view and touch of sunshine made for a relaxing and happy Fathers' Day.
Sugaroom Restaurant, Bar and Lounge
Shop 2, 1 Harris St, Pyrmont
ph: 02 9571 5055