After not road tripping to Sydney for a record 8 weekends in a row, I had accumulated quite a list of places to try the next time we visited. I think my family is starting to think I get happier about the food then seeing them (possibly correct :)) but when you are visiting the big city from a small town, the food choices are super different and very exciting. On the Saturday night before Fathers' Day we rounded up anyone free and paid a visit to Meidi BBQ House in Parramatta.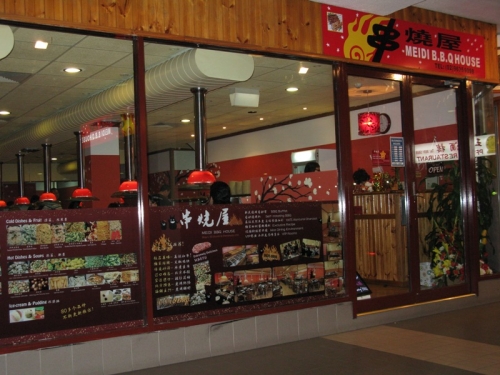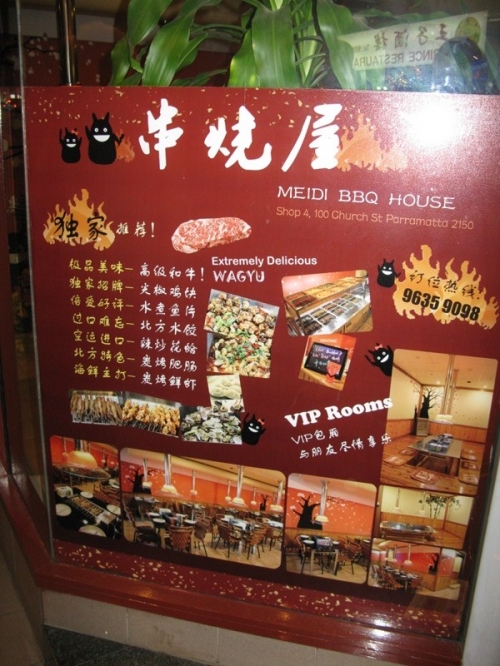 This was a restaurant high on my visit list after seeing a review on
chocolatesuze
as a) it was very close to home, b) anything listed as 'all-you-can-eat' or 'buffet' gets bonus points, c) the novelty of cooking numerous skewered meats yourself!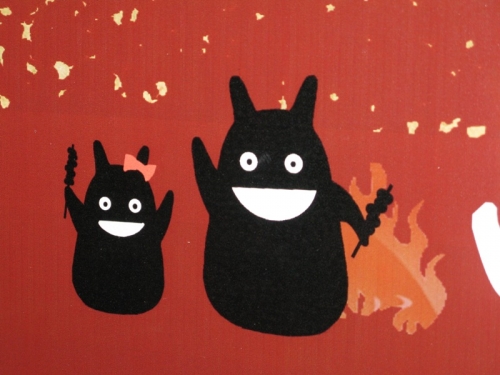 The set up is basic but still impressive. Six of us crowded round a table crowned with an industrial extractor.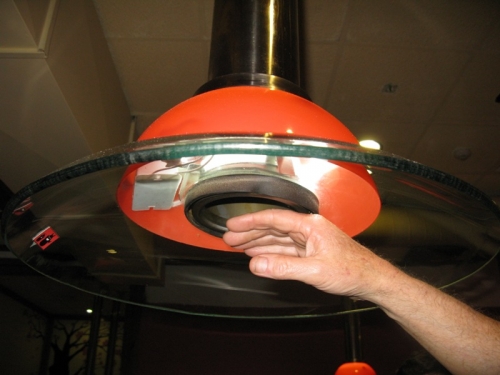 Two red hot charcoal logs were placed in a metal box in the middle of the table which immediately had us all taking off our jackets from the heat.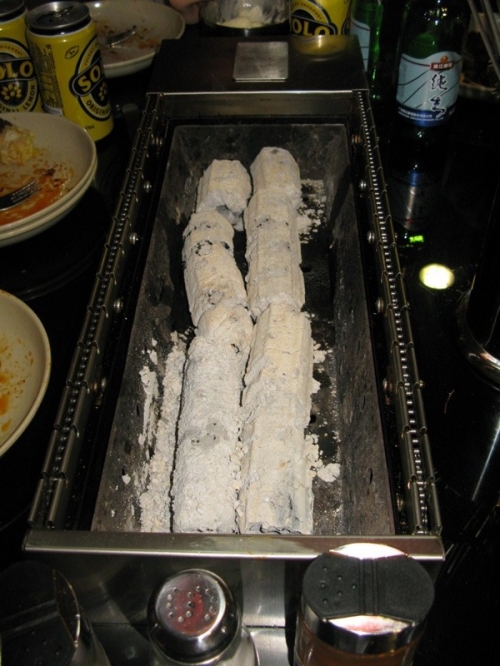 After an awkward pause, staring blankly at each other until a passing waitress gave us a funny look and reminded us it was a buffet, we attacked!
The many trays of skewers held everything from Mongolian lamb, chicken wings, satay chicken, prawns and Wagyu beef through to chicken giblets and hearts.
You can help yourself to as many as you like, but remember BBQ etiquette and don't hog too many of the skewer slots for yourself!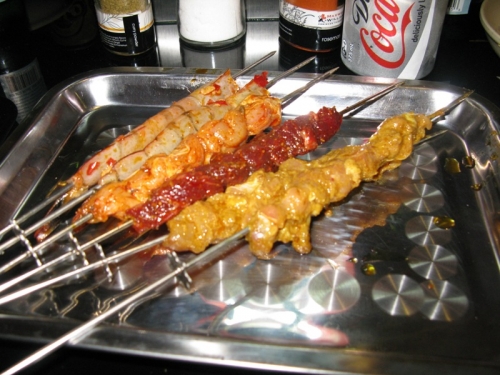 Meats slowly roasting, note the sausage and capsicum kebab, hehe.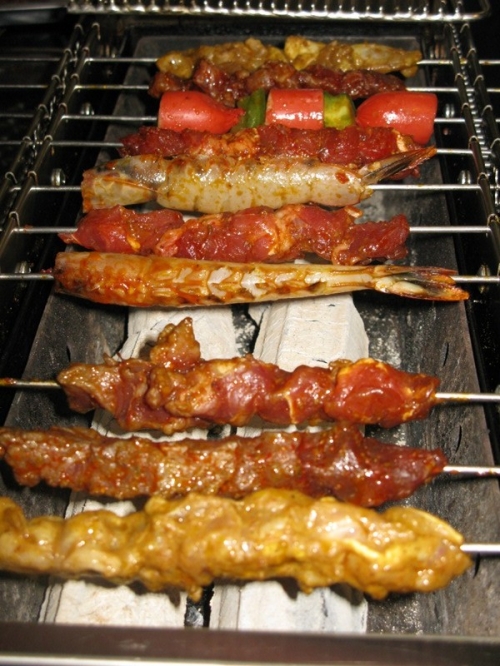 The Wagyu was a huge favourite, when it was ready, the dripping fat hitting the coals smelt fantastic. Get there early; they limit it to 10kg a day.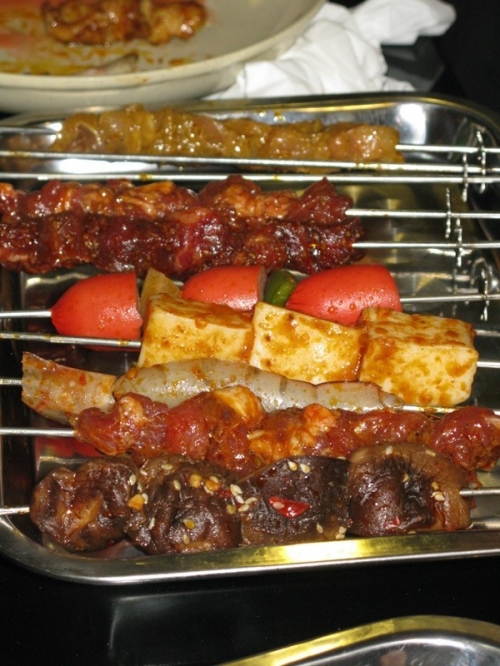 The agonising wait until the first set were cooked was made slightly more bearable by the range of pre-cooked sides.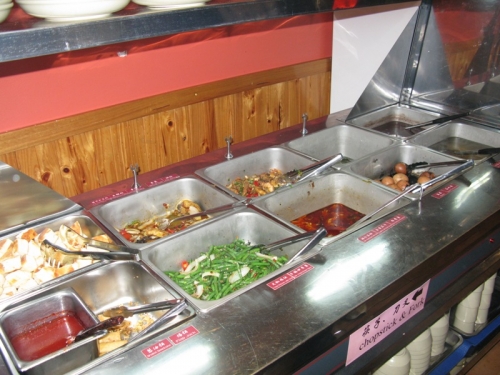 Sweet corn cobs, dumplings, salt and pepper prawns, steamed beans, eggs boiled in soy sauce and tea and chicken knuckles were the favourites.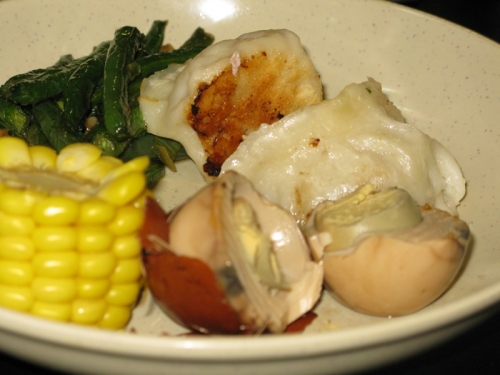 All meat trays were named, however one held something unidentifiable and was labelled simply with a picture of
Totoro
. Surely they must be a protected species! It turned out to be large wedges of marinated mushroom, *phew...
By the time we had been through a few sets we were pros, setting up a set of skewers to roast before heading off to find more to munch on, and helping ourselves to soft drinks and beers from the fridge. We didn't quite know how they were recording what we took, but everyone else was doing it so we followed suit.
Dessert was simple but refreshing, mango pudding, orange wedges and self-serve vanilla ice cream from the giant freezer.
The range of meats satisfied even the fussiest of eaters in our group who found a favourite and went for glory. One of us was even pregnant and just made sure hers cooked for a little longer to be on the safe side.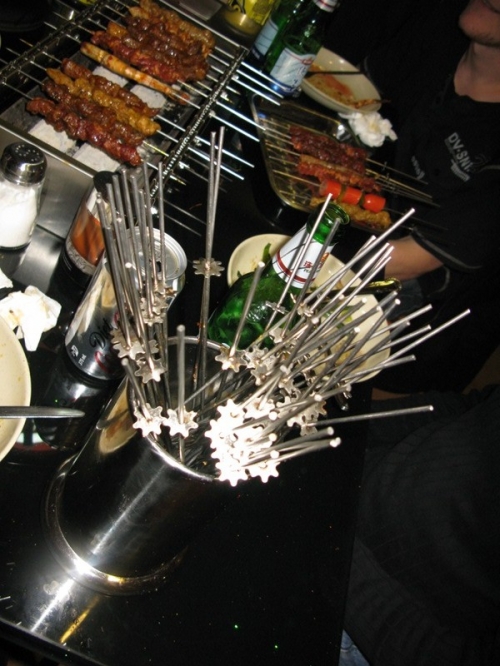 Total number of skewers comsumed was in the 70's, we did well. :D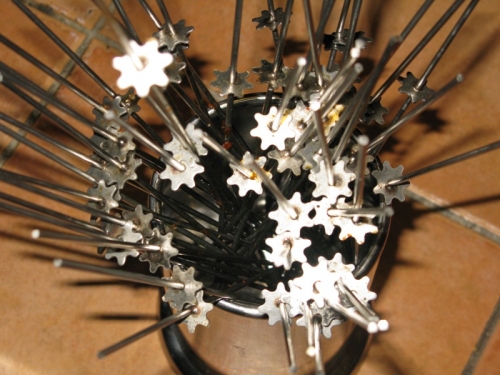 After two hours, the coals were still burning hot, but we were full. For only $29.90 (Fri-Sun) a head, plus drinks (they figured it out!) it was good value and good fun.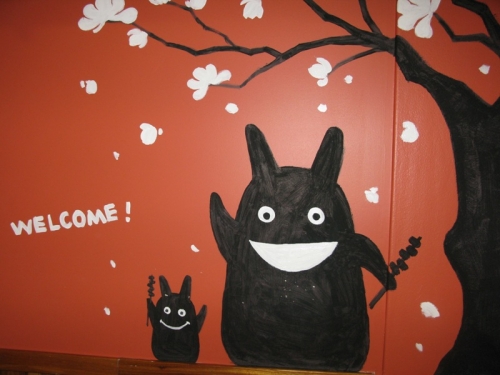 Meidi BBQ House
Shop 4/100 Church St, Parramatta
Ph:9635 9098
Open 7 days: 4:30pm-10:30pm