The
July 2010
Daring Bakers'
challenge was hosted by Sunita of
Sunita's world - life and food
. Sunita challenged everyone to make an ice-cream filled Swiss roll that's then used to make a bombe with hot fudge. Her recipe is based on an ice cream cake recipe from Taste of Home.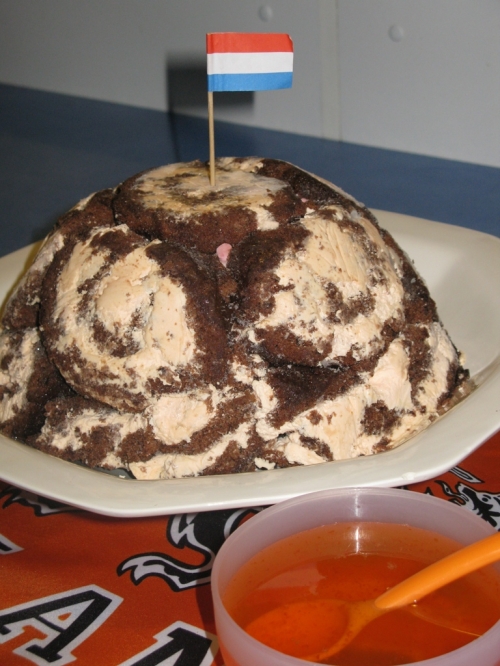 How fast has July gone? Not feeling my life was busy enough with a fulltime job, this month I also decided to go back to uni part-time, AND sign up for the Daring Bakers'. When I joined up all the way back in June, I thought, "Oh, it will be easy, a bit of baking fun on the weekend, a nice stress break". Yeah...
The challenge recipe is a Swiss Swirl Ice Cream Cake. Slices of Swiss roll lining a bowl filled with at least two types of ice cream and a fudgy sauce.
(
original PDF recipe file
)
The "daring" aspect is that it is all made from scratch: the Swiss rolls, the cream filling, the ice creams and the fudge sauce. *phew. No wonder I panicked just a little when I excitedly printed it off on the first of the month. Condensed, the recipe alone was six A4 pages!. On top of the assignments I had just printed off for my first week on uni, and you can see why I have only posted 3 times this month. :)
On closer inspection, this turned out to be quite simple and a lot of fun to make. It was made leisurely here over a few weekends, the longest step is the assembly, purely to allow to ice cream layers to set fully.
On to the challenge!
"Hup Nederlands" Swiss Swirl Ice Cream Cake
So while the original recipe was fully chocolate and vanilla, I chose to theme my cake to support the Dutch in the World Cup final. Ok, so the game didn't work out, but the cake did. The ice cream layers were the best part, I'm not sure if I am so keen on frozen cake, but it does add to the presentation and it was a baking challenge.
I made three ice creams, raspberry, vanilla and blueberry, chosen so they could be layered to resemble the Dutch flag when cut open.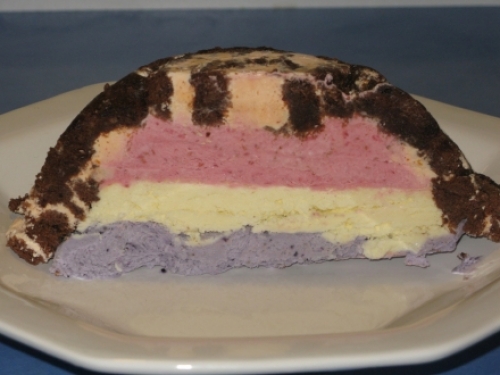 The cake was a Dutch cocoa swill roll with an orange flavoured, orange tinted whipped cream filling. This was all drizzled with an orange syrup just to bring it all together.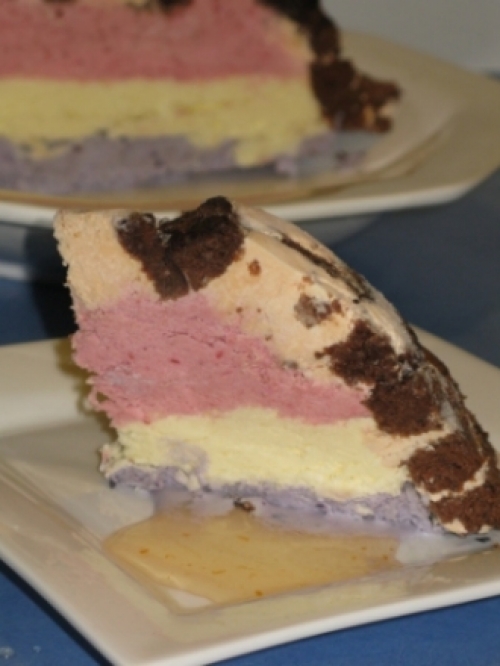 Making the Ice Creams
The best part of this challenge was that the ice creams were eggless and did not require a machine to churn. Hooraa! My last attempts at egg ice cream were rather scrambled so I was already in a good place.
You will need at least 1200mL of thickened cream to make three layers of ice cream, castor sugar and your chosen flavourings. Be creative, I used pureed fruit and vanilla extract, but there is also chocolate, nuts, caramel, Milo, green tea...the choice is endless.
For mine: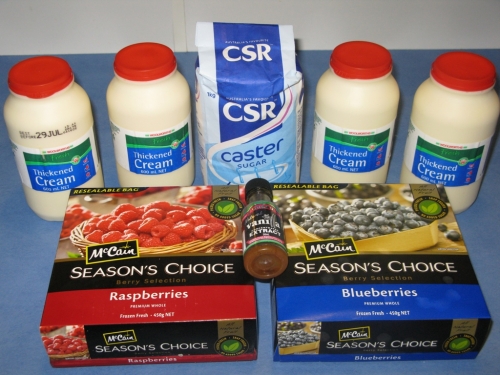 Stir together 1200mL cream, 230g of castor sugar and 2 tablespoons of vanilla extract in a large mixing bowl.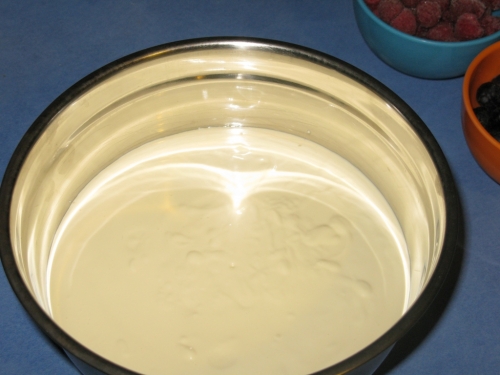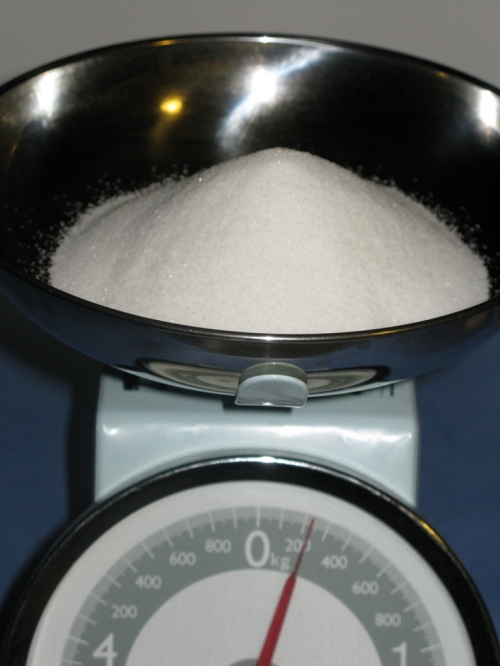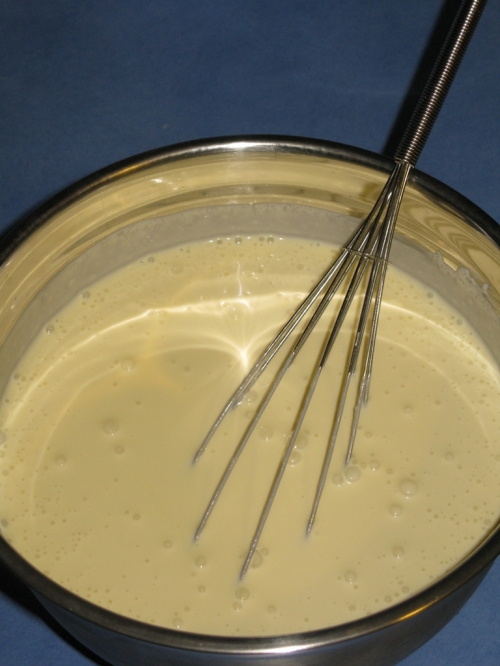 Divide the mixture evenly between three lunchbox containers.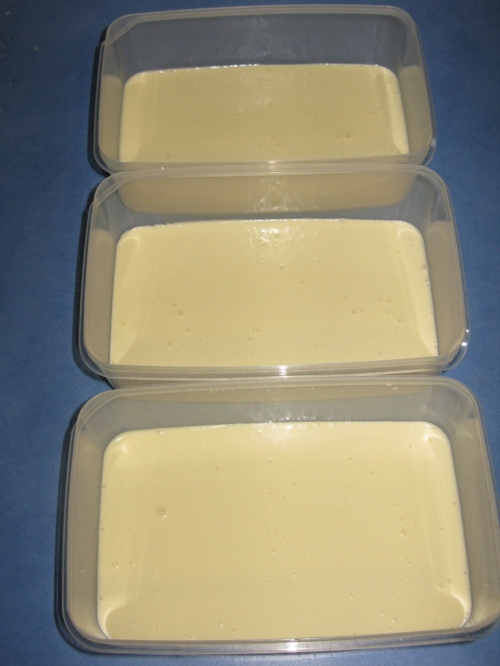 In a food processor, puree 1 cup of frozen raspberries and add to one of the lunchboxes.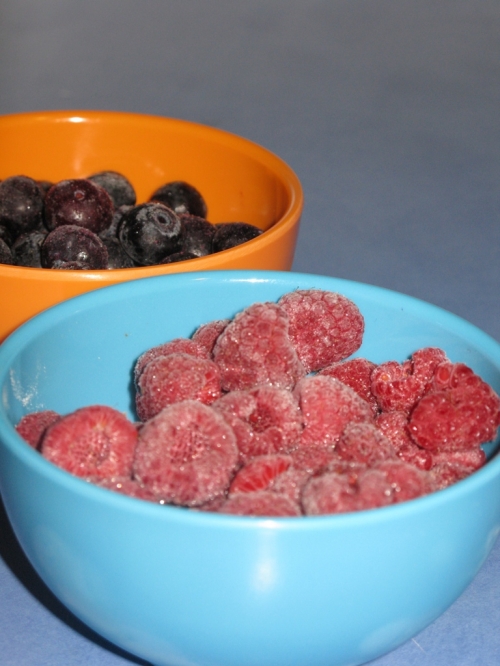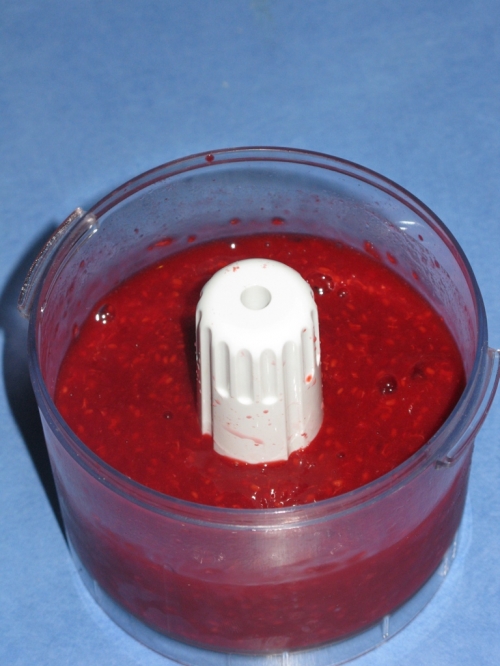 Leave the second one plain, and add 1 cup of pureed blueberries to the third.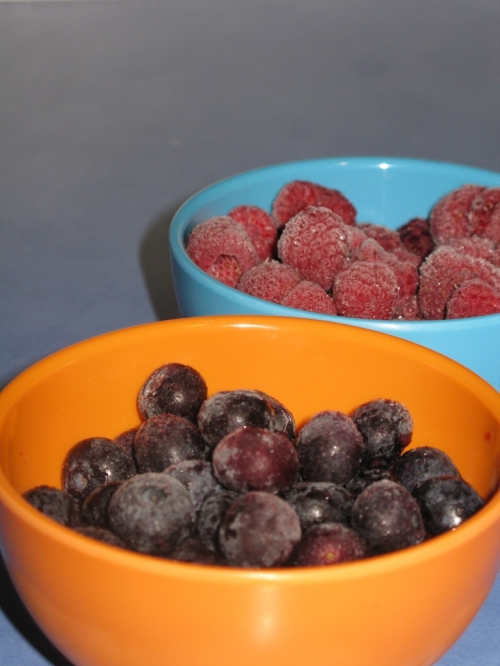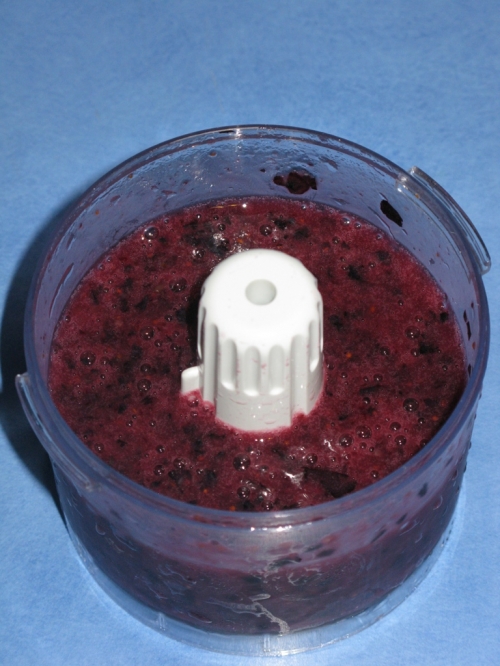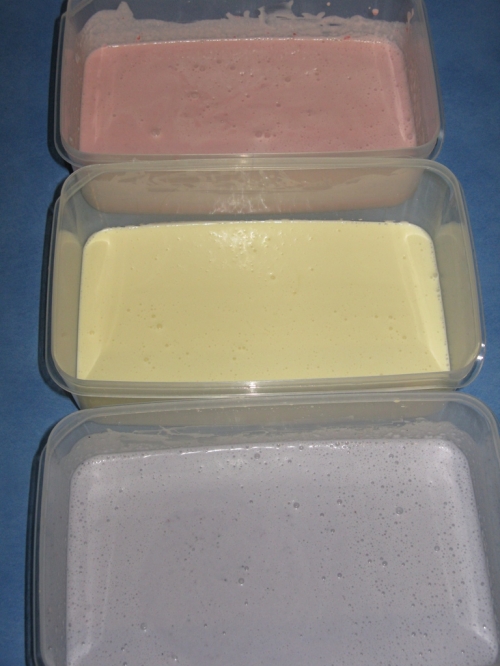 Close the lunch boxes and place in the freezer.
After an hour, remove the boxes and whisk of beat the mixtures for a few minutes. Repeat this process at least 3-4 times over the next 8 hours or until frozen solid.
It is important to sample the ice cream repeatedly through this process. Incredibly important.
Swiss Roll
I chose to make one large Swiss roll, instead of two smaller ones, mainly as I was only making one flavour. The cake batter can be any flavour, it just has to be light and thin enough to roll.
For my Swiss roll: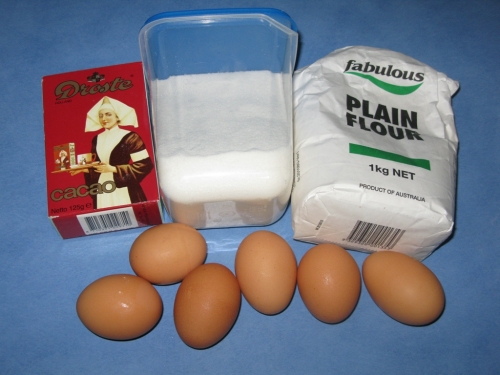 Preheat an oven to 200c.
Line one large baking sheet with greaseproof paper, set aside.
Crack six eggs into a bowl, add 225g of castor sugar, then beat until very thick and fluffy.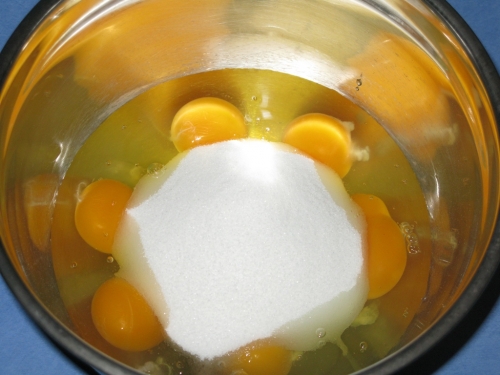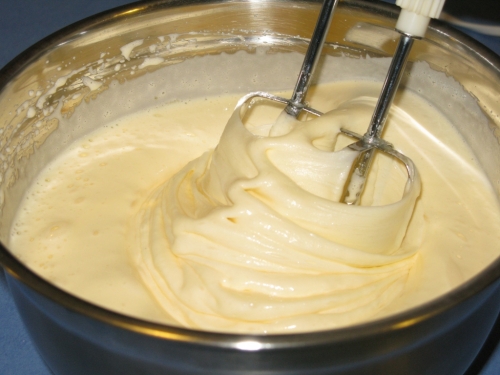 This will take maybe 10 mins, you want the mix so thick that a trail holds its shape for at least 10 seconds.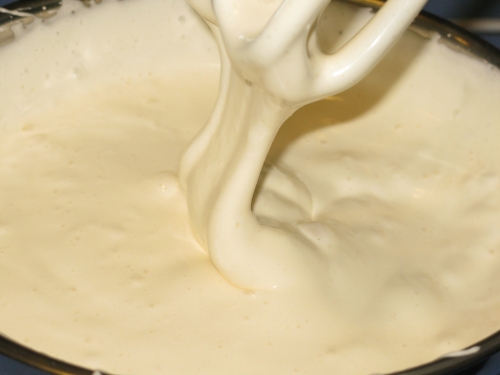 Sift together eight tablespoons of plain flour and three tablespoons of cocoa powder.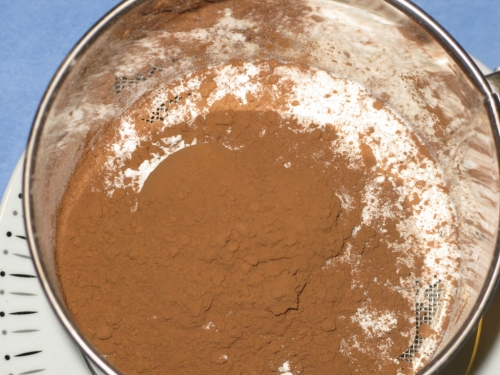 Fold gently into the egg mix in three batches, then fold through two tablespoons of boiling water.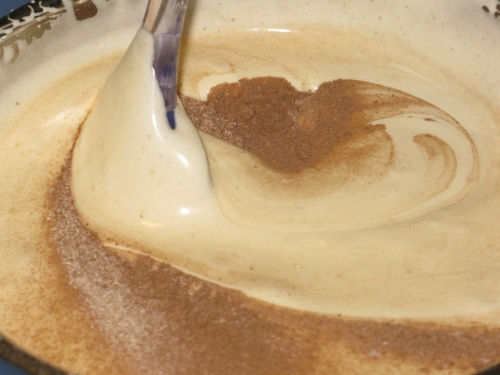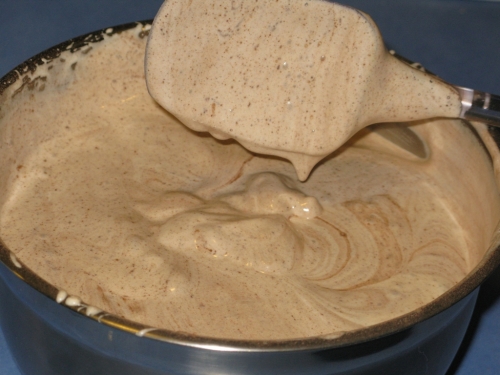 Pour the mixture into prepared pan and bake for 10-12 minutes or until springy to touch.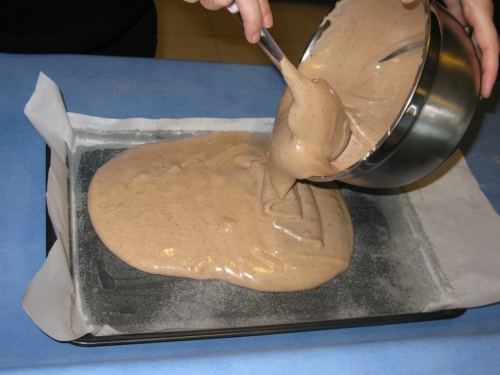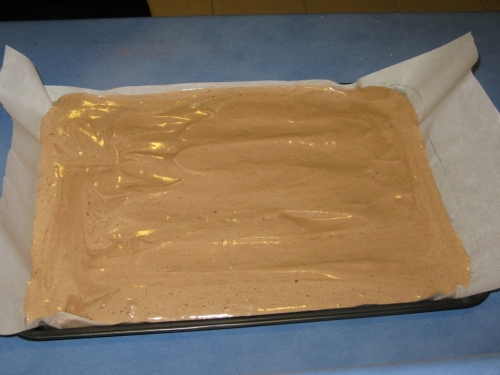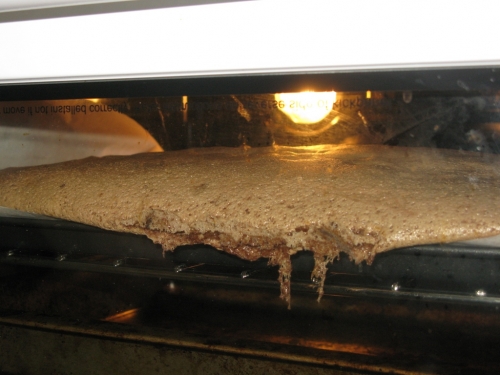 Mine puffed up something chronic and tried to escape the pan. Way too much batter, don't copy that...
Spread some kitchen paper or a clean towel out on the bench, sprinkle with a little castor sugar.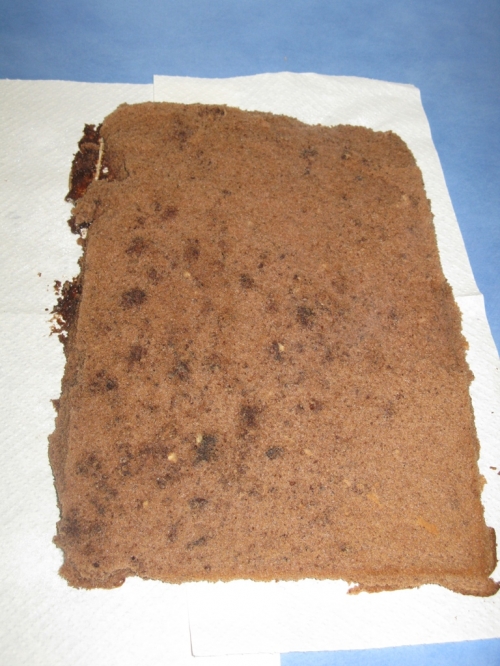 Turn the cake out onto the towel and while still hot, gently roll the cake with the towel inside.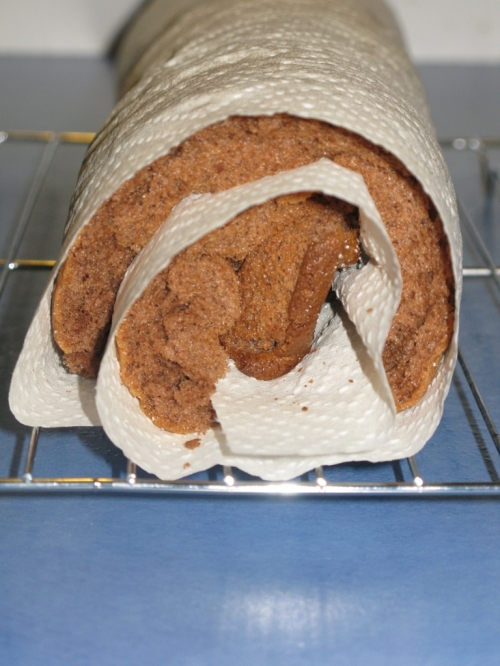 Leave to cool rolled up.
When cool, unroll and fill with whipped cream filling, reroll and set aside until ready to assemble.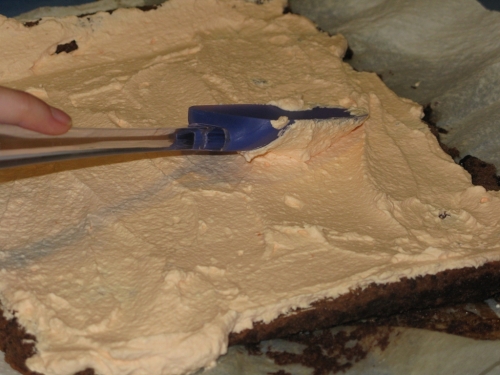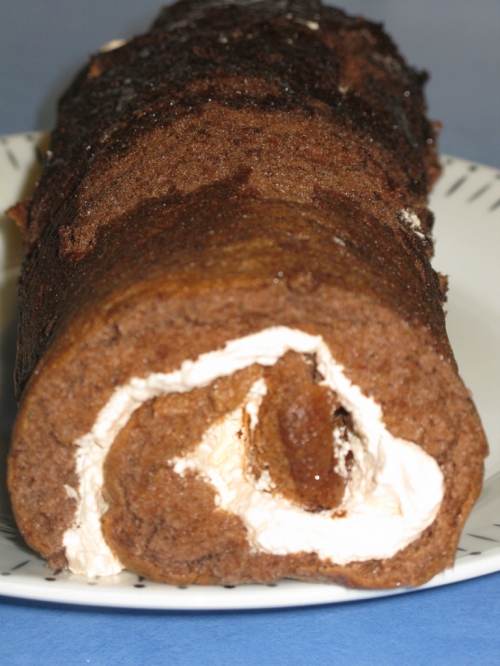 Whipped cream filling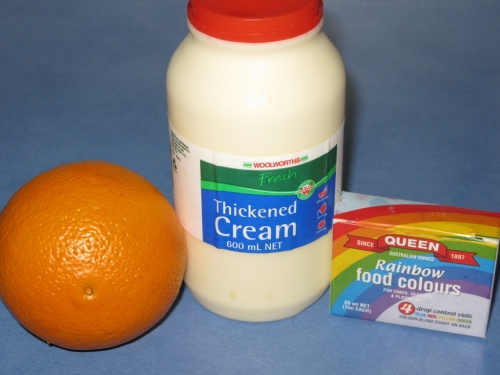 Whip 500mL thickened cream with zest of 1 orange and some orange food dye.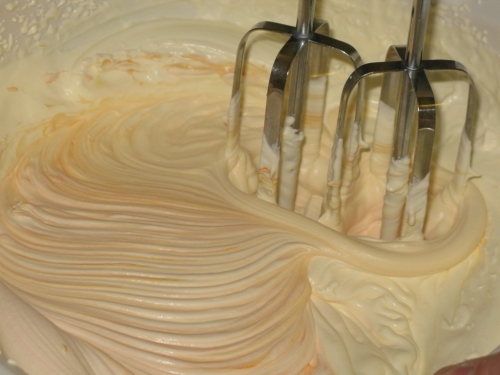 Use to fill Swiss roll.
Orange Syrup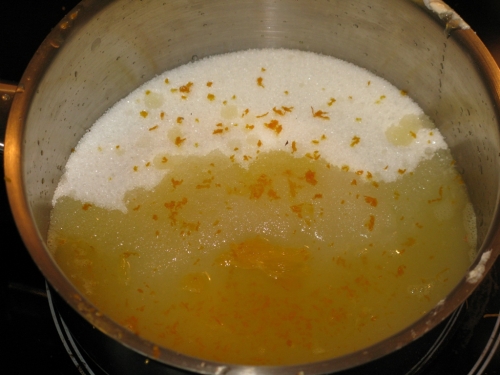 Make a simple sugar syrup of 1 cup water to 2 cups castor sugar. Heat on a stove until sugar dissolves and mix becomes thicker and syrupy. Add the zest of two oranges, the juice of one and some orange food colouring.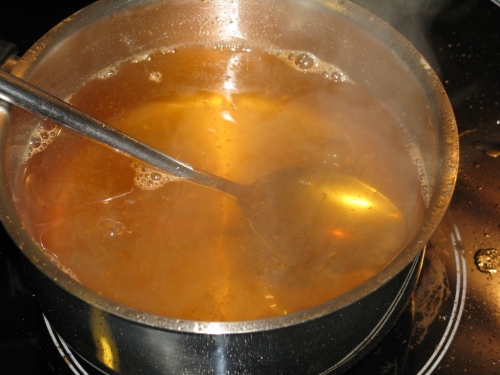 Leave to cool until required.
Deep breathes now, are you all still with me? Because now it assembly time, which means even closer to EATING TIME! YAYYY!!
The Assembly
Choose a bowl to assemble your creation in. I chose a large rounded salad bowl, but use what ever you have.
Line the bowl well with cling wrap.
Slice thin swirls of the Swiss roll and line the entire bowl. Place in freezer to harden.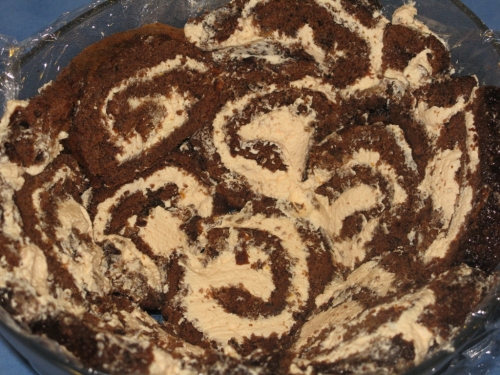 Using your first flavour of ice cream, fill a third of the Swiss roll bowl, once again allow to harden.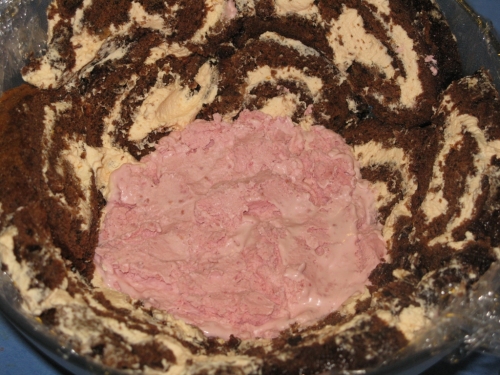 Repeat process for all layers of ice cream, allowing for hardening time.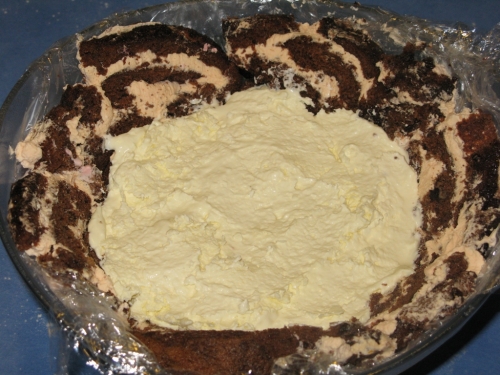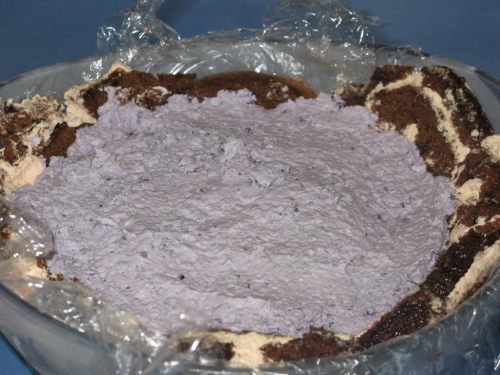 Finally, after hours of preparation and anticipation, tip the frozen Swiss roll cake out onto your serving platter and remove cling wrap.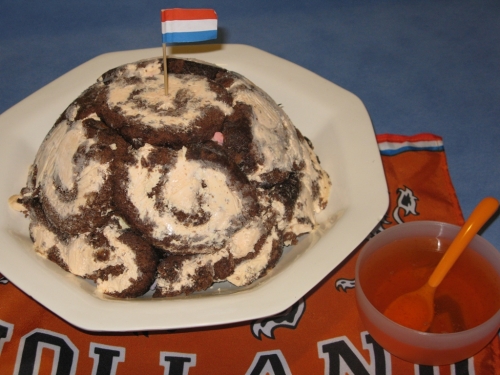 Carry out to the expectant and hungry crowd that has gathered and soak up the "Oohs" and "Aahs".
Slice a giant hunk, drizzle with orange syrup and attack :)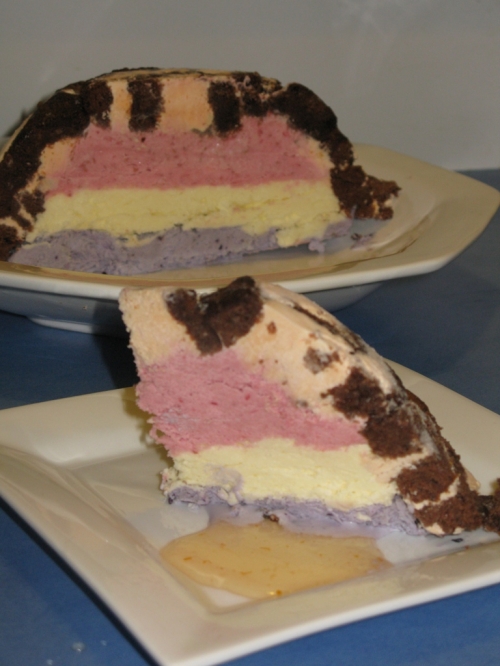 The verdict?
So the Dutch didn't win, but I was still happy with the theme. It wasn't the prettiest or neatest cake I could have made, but that didn't affect the taste.
The ice creams were the best bit, it has definitely sparked my creativity to try some different flavours. I would not make this again unless I had a very special occasion, but it was definitely an awesome challenge to attempt.
Even if you cop out and buy premade Swiss rolls or you favourite ice cream, I dare YOU to give it a go.
Bring on next months challenge!!