A final wrap up of my weekend of Sydney eats last week.
On Sunday morning we made the pilgrimage to
IKEA
that most Sydneysiders seem to attempt every weekend, purely going in search of replacement beside table lamps that our cat has smashed one-by-one.
However, even though we considered this a full day mission (finding a car park took us almost half an hour), and my mood changes with even the slightest drop in blood sugar level, there was no need to pack a cut lunch as there was a wonderful place called the IKEA cafeteria. This is located just at the point where you have squeezed through a whole level of lounge room setups with the rest of the city and nothing seems better then sitting down and fortifying yourself with Swedish home cooking, before tackling the wonders of 'Markethall'.
The meatballs are the big winner here. They come in three serving sizes, the large has 22 pieces. Moist and flavoursome, they are smothered in a creamy gravy and served with a side of tart lingonberry jam and either mash or chips.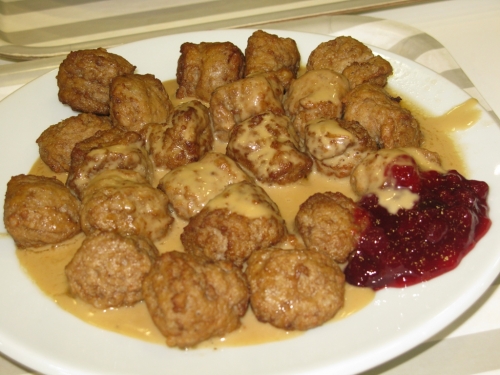 In a previous visit, we bought all the necessary components to recreate this meal at home, however the packets are still tucked in the cupboard waiting to be blogged about another day.
Not as satisfying was the salmon dish. Ok, I could have thought that a lovely piece of salmon left to sit in a warm bain-marie might come out well overcooked and dry, but I mainly chose it for the potato-ey, broccoli filled fritter things that came on the side. The strange fluoro yellow sauce was surprisingly tasty and brought the whole dish together.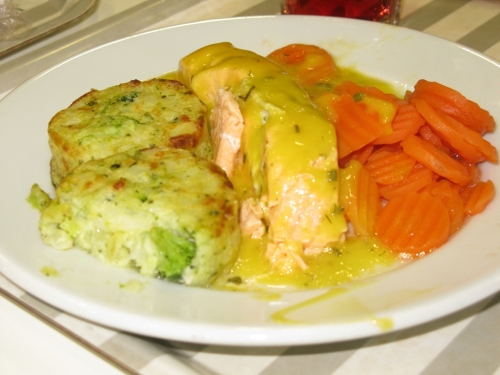 Washed down with a few glasses of loganberry soft drink, we were re-charged and ready to shop. Mind you, after 3 hours, we came away without the table lamps, but did add an impressive pile of implements and kitchen items to our already overfilled kitchen drawers. :)
If we are heading home from Sydney on a Monday morning, lately we have started a tradition of meeting any family members who are free for brunch before we start our 5 hour drive north. The best place to go for big feeds, good value and close proximity to home is the Northmead store of
Pancakes On The Rocks
. When the only store was located in the Rocks, this used to be a place we would visit very rarely, usually late at night when we had missed the last train home. However, when the Northmead store opened down the road from my parents place, it became the place for us to go for brunch or dessert.
Normally, I opt for something from the all day breakfast menu, usually the Aussie Sunrise ($11.95), as the combination of pancakes with grilled banana, pineapple, whipped butter, crispy bacon and eggs all topped with maple syrup is seriously good.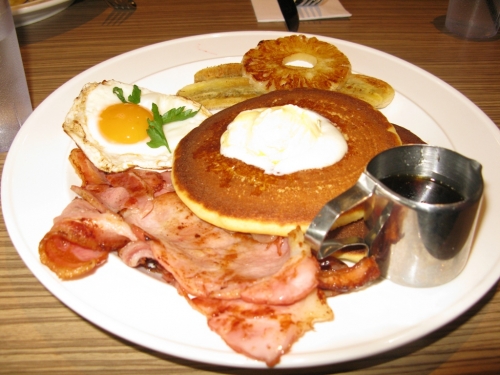 This time I went with the Bavarian Apple Pancakes ($10.95), two butter milk pancakes served with a side of soft apples cooked with cinnamon, butter and sultanas and topped with ice cream, cream and maple syrup.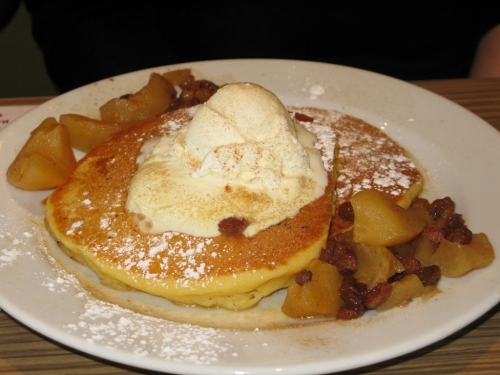 Yeah, I know, a heart attack already, but I also ordered a side of wedges with sour cream and sweet chilli ($9.15) to balance the sweetness out. :)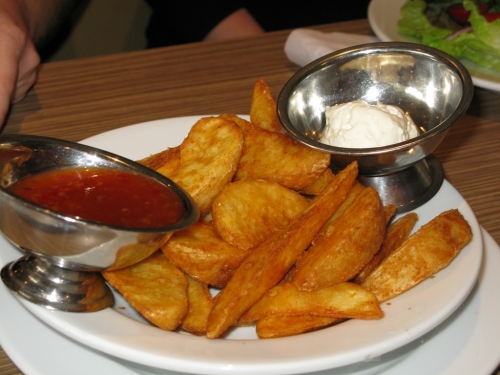 Waz ordered the usual, the Pancakes Up North ($11.95), the same as the Aussie Sunrise, but sausages instead of bacon. But then he adds bacon ($2.75). Everything is better with bacon.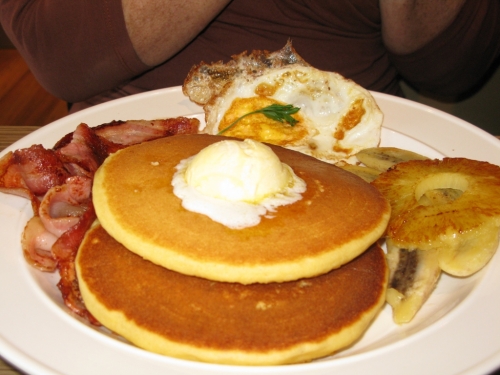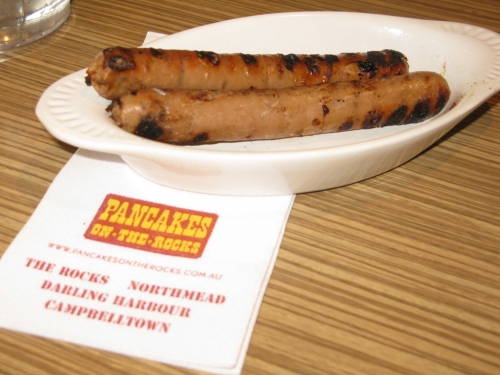 Our other two diners ordered savoury crepes, specifically the Famers Brunch ($14.95). Two crepes filled with a creamy smoosh of bacon, egg, onion and potato covered in a creamy cheese sauce.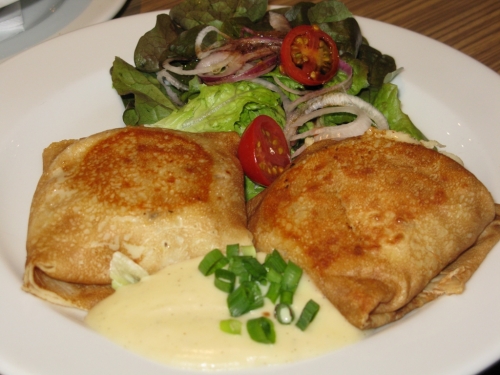 For five diners, the bill came to around $80 excluding drinks, good value considering we were stuffed full and ready to hit the road.
So you might think that after brunch we wouldn't need to eat much more, considering a good portion of the day was spent sitting in a moving car, but no. Pulling into the Taree Service Centre around dinner time, we used our cheap
Subway
sub cards to create our own '
Man v. Food
' worthy super sandwich. A footlong Subway melt, with all the salads except onion, doused in chipotle southwest sauce and topped with
KFC
chips and popcorn chicken.
All that was missing was getting the whole lot dunked in gravy.
fivesquaremeals: 1. Sydney: 0. hehe
IKEA
1 Oulton Ave, Rhodes
Ph: 02 8002 0400
Pancakes on the Rocks
100 Briens Rd, Northmead
Ph: 9683 4322
Taree Service Centre
Old Bar Rd Exit, Mannning River Drive,
South Taree