I was lucky enough to score a Friday and Monday off work last weekend to attend a conference in Sydney, which to me, also translated into four days to drag family members to any place which I thought would satisfy my food cravings. I read so many awesome food blogs about Sydney dining that my weekends in my former home are now becoming food quests as I try to cram as many eats in as possible.
So first up, on the wet Friday night after a full day of lectures, I was picked up at Parramatta station and we headed to the
Bavarian Bier Café
for steins of beer, salty pretzels and schnitzel. I had been wanting to go here for ages, and on a cold rainy night we couldn't think of a more perfect place to warm up and fill up.
We started with the giant pretzels ($3.50 each) which were warm, chewy and salty made better with a schmear of melty butter.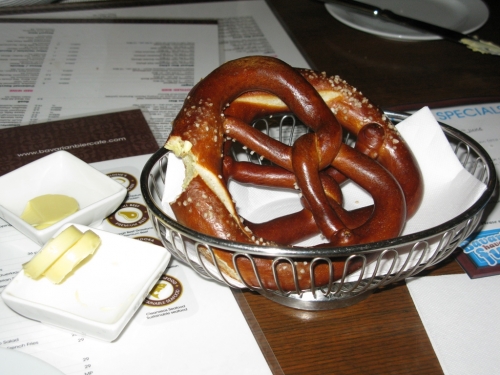 Beers included a 300mL Mango flavoured Franziskaner Hefe-Weissbier Hell, a liter of Stiegl Goldbräu and a liter of Paulaner Premium Pils, which certainly warmed us up and made the wait until mains fly by.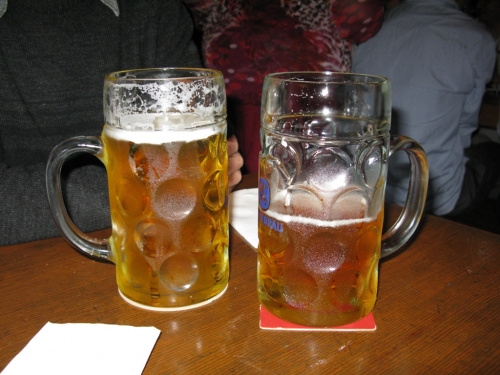 For mains, Mum and I opted for the Bavarian Tasting Platter ($26). Two pieces of chicken schnitzel, three different types of sausages including Kransky and Bratwurst and a nice hunk of pork belly with crackling. All served with traditional sides of mashed potato, sauerkraut and a sweet red sauerkraut.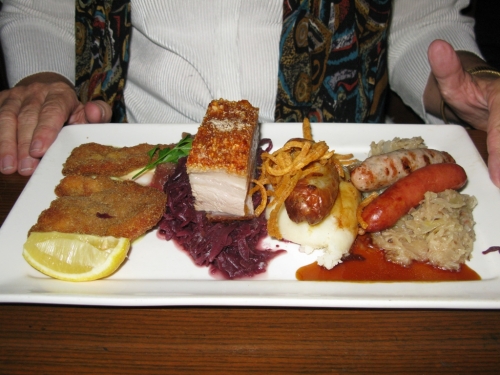 The plate was awesome, perfect amount of food and great comprimise for those who can't choose just one thing from the mouthwatering menu.
The crackling was so crisp, I actually thought I damaged a filling when I bit down and it snapped firmly with a crack in my mouth. It would have been worth it!.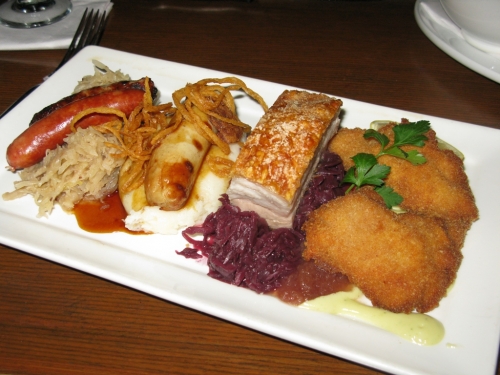 We also shared a dish of sauteed vegies for balance ($7.50).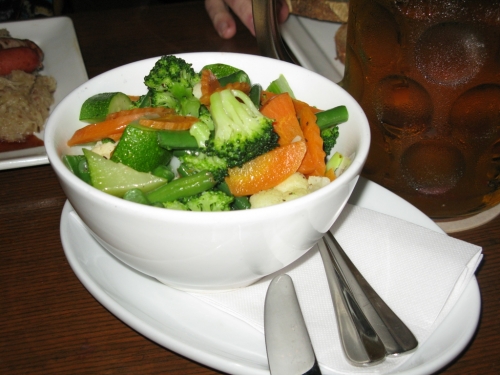 Dad ordered the slow cooked frankfurt and beef stew, a rich broth served with chunky bread slices to scoop up all the good bits.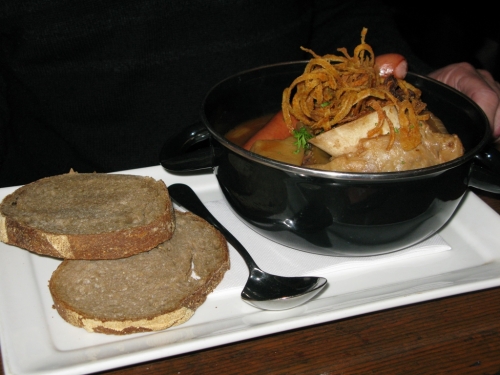 Our biggest eater ordered the Brewers Tasting Platter ($36) which was essentially a larger serve of the Bavarian Platter with a extra large grilled ham steak and some more sausages. The waiter joked that if he could manage to "lick the plate clean" he would get a shot of schnapps on the house.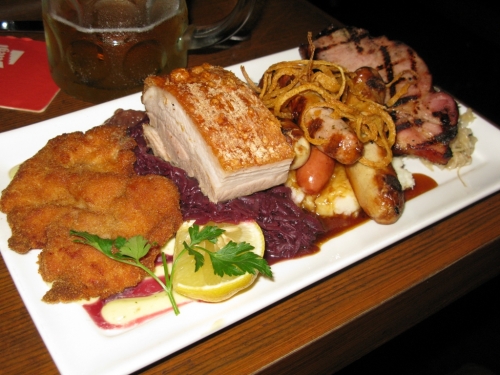 And here he is downing said free glass of butterscotch schnapps, which comes carried to the table on a large wooden paddle as the waiter rings a giant cow bell.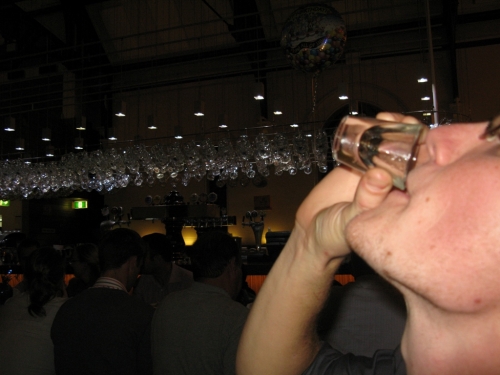 We left satisfied, and headed round the corner to the
Mars Hill cafe
where we consumed caramel cheesecake, coffees and hot apple ciders. Sadly, the photos are missing, I think the beer had more of an effect then we realised.
On Saturday I woke with a mission. My conference was in the
Darling Harbour Convention Centre
, situated a short stroll from
Chinatown
. So naturally, after reading
many
food
blogs
describing the speed of service, cheap prices and above all, great food, I wanted to try the famous satay and roti at
Mamak
. We chose to go at lunch time to avoid the mega queues that form in the evening. We arrived an hour before the end of lunch service and were seated after about 10 minutes of waiting. 10 minutes spent watching the fascinating way the chefs pulled the roti and poured the 'stretched' teas.
For our feast we shared 12 chicken satay skewers ($14), one of my all time favourite foods/sauces. These had that perfect smoky taste that comes from cooking them over a charcoal flame.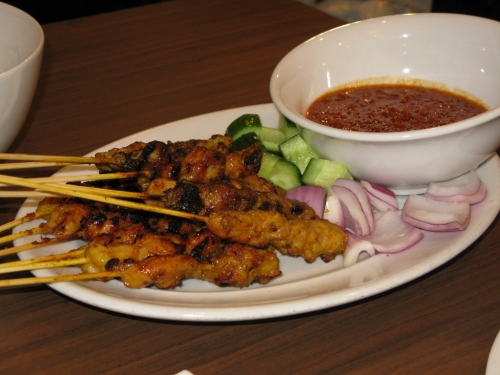 Extra sauce is always mopped up with a big bowl of rice. ($2 per person)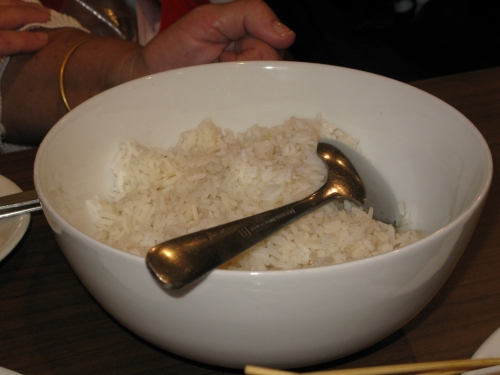 The savoury Roti Telur Bawang ($6.50), stuffed full of egg and onions, served with 2 curry dips and spicy sambal sauce.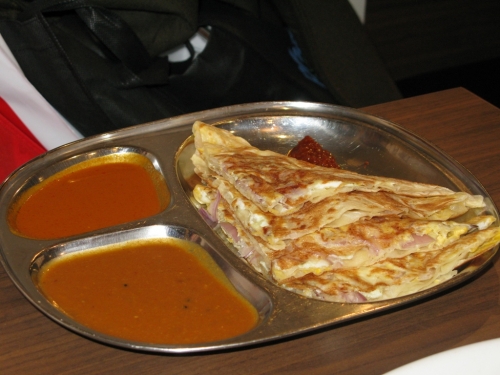 Mee Goreng ($10.50), spicy and flavoursome with lovely chunks of prawn.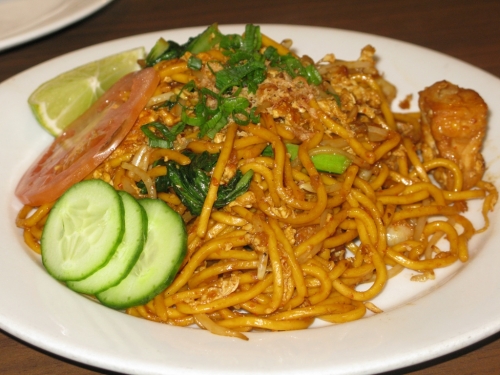 For beverages, we tried the aformentioned stretched and sweetened tea, Teh Tarik ($3.50), frothy and rich, a glass of Limau Ais ($3.50), fresh, sweet lime syrup over ice and the Milo Ais ($3.50) of iced milo ("for the growing boy" the waiter grinned).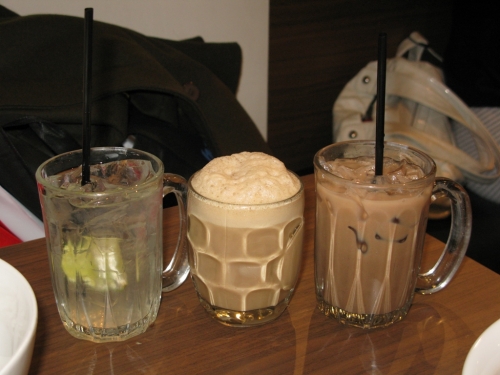 Lunch was so good that we decided to go back again at dinner time, this time for another plate of satay and to try the sweet roti selection, the queue stretched right around the corner.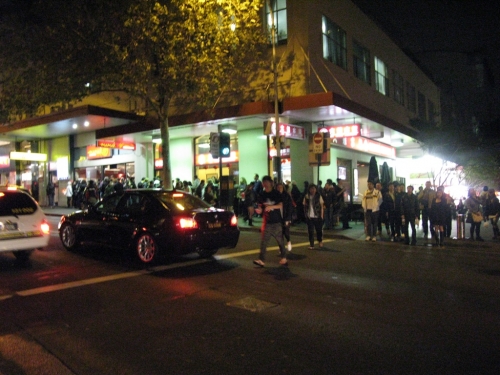 We filled in an hour and tried again, but no luck. If we had the patience and it wasn't so cold, we would have hung around longer, but in the end, we headed home. However, remember Mamak as a late night supper destination, on Fridays and Saturdays it stays open until 2am!
Bavarian Bier Café
2-8 Phillip St, Parramatta,
Ph: 02 8836 1400
Mars Hill Cafe
331 Church St, Parramatta,
Ph: 02 9893 9888
Mamak
15 Goulbourn St, Haymarket,
Ph: 02 9211 1668