A "stunned mullet" is a coloqiual Aussie expression meaning one who is surprised or startled.
The Stunned Mullet
is also the name of a swish little restuarant in Port Macquarie where four of us ventured on Saturday night before a late
movie
.
It was a little hard to find, given the fact that we didn't take a map and haven't quite learnt the town geography, but eventually we were greeted with a warmly lit restaurant.
At first, the interior looked quite simple; formal and elegant in white, but once seated at a table along a comfy cushioned bench, quirky details such as the retro light fittings and giant chalk boards lent a cosy vibe and we relaxed immediately.
Between four of us, we ordered three entrees to share and a plate of Fresh bread with roasted chilli and pecorino pepate infused extra virgin olive oil ($8) to munch on while we waited.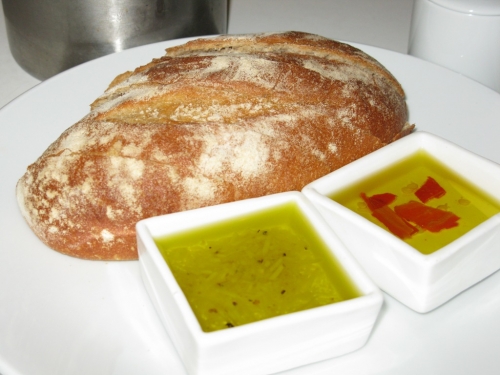 The Pork Belly and Seared Scallops with nuoc cham dressing and Asian salad ($21) was so soft, it fell apart with a fork, lovely with the perfectly cooked scallops.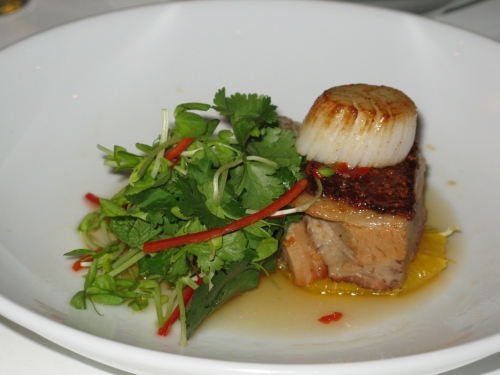 Salt and Pepper Squid tossed with garlic chips, fresh chilli and fresh coriander on a bed of baby rocket ($19) was possibly the pick of the entrees. Light batter, not too spicy, and the slices of orange through the salad were very refreshing.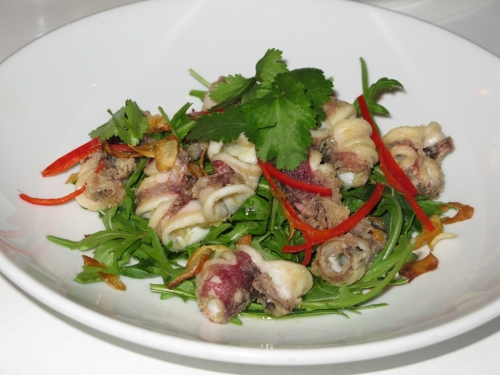 Quail served with risotto with slices of freshly shaved truffle ($34). This was very special. The truffle was shaved at the table, it was the first time any of us had ever had truffle slices, not just infused into oil or butter.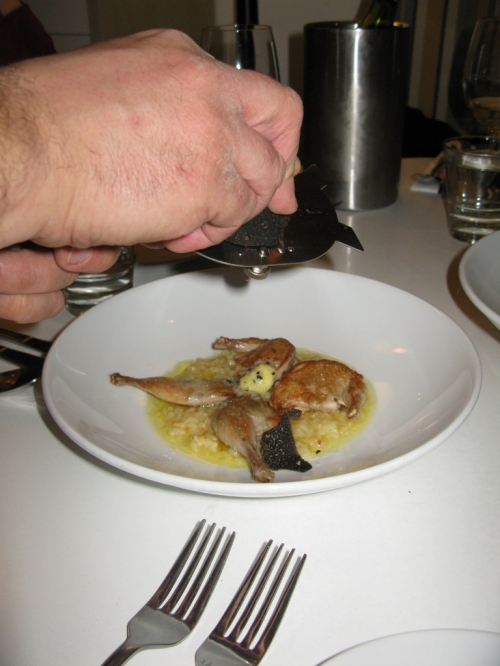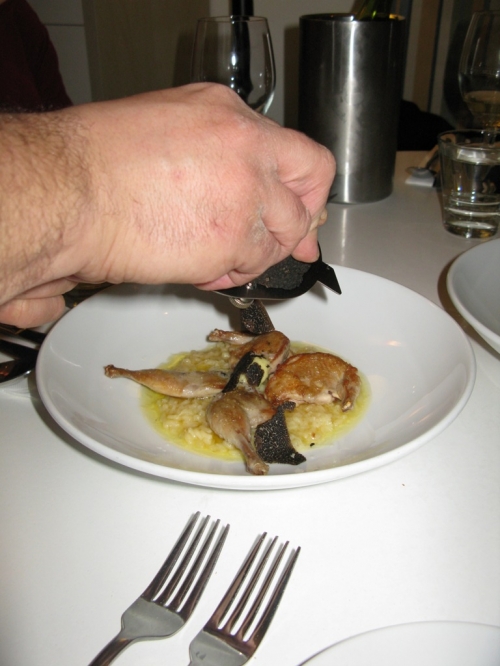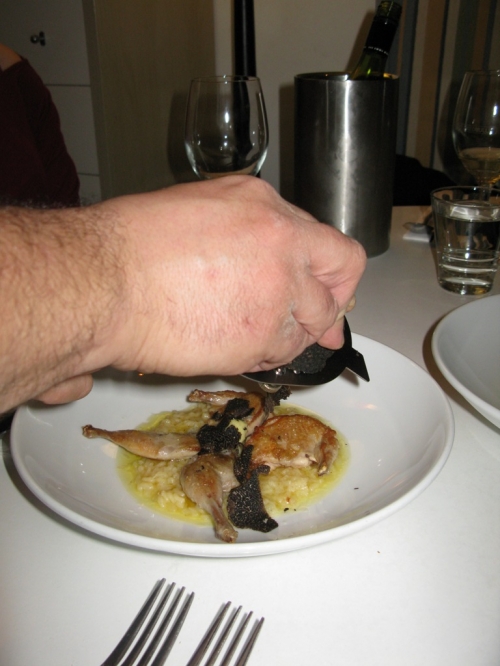 The quail was very tender, and the risotto lovely and creamy, complimenting the nutty taste of the truffle.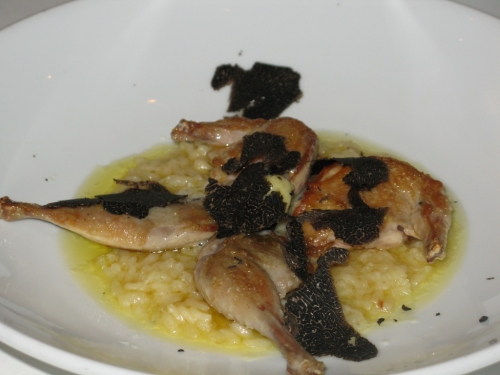 A choice from the extensive wine list (note the classy branded stemware),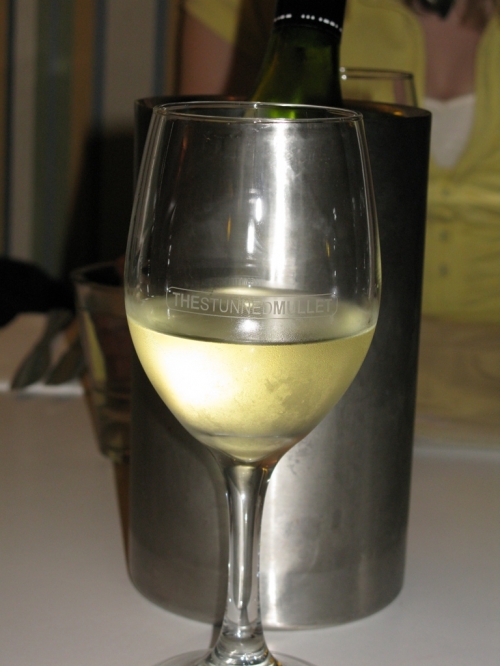 and a few cocktails before the mains: Lime Margarita($14)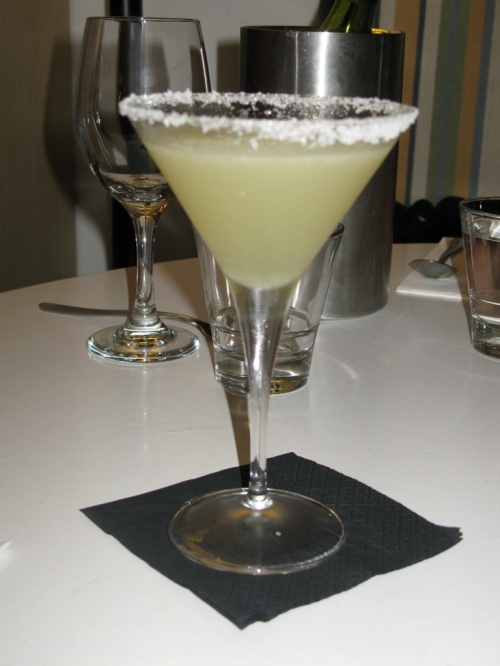 and Cloudy Bison Delight($14) - vodka with refreshing lime and cloudy apple juice.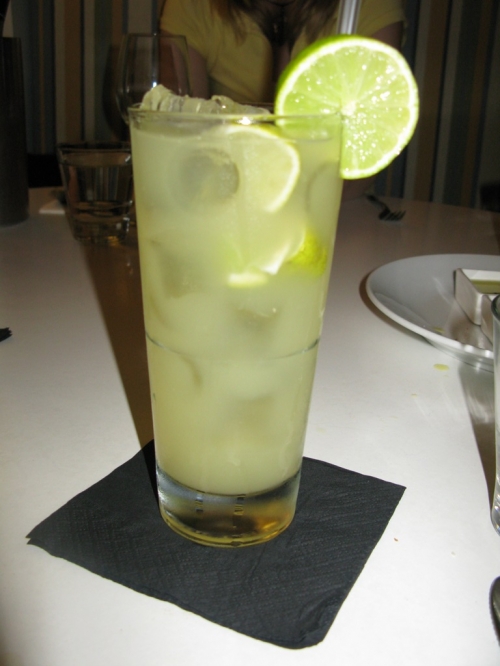 We were a little bit less creative with our mains, between four of us we only sampled two of the choices.
The Sea Dweller of the Day was Blue Eye Cod, with vongoles in a creamy sauce with broad beans($34). I didn't try any of this dish, but judging from the reactions it was definately enjoyed.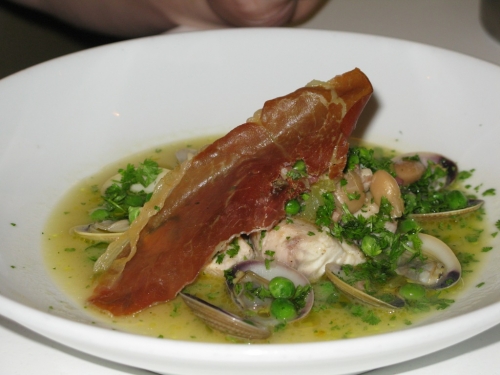 Tasmanian Aged Sirloin Steak 250g with thick cut chips and beans finished with a wasabi and mushroom sauce and crispy leek ($36). The steak was perfectly cooked, very thick and juicy, tender to cut into.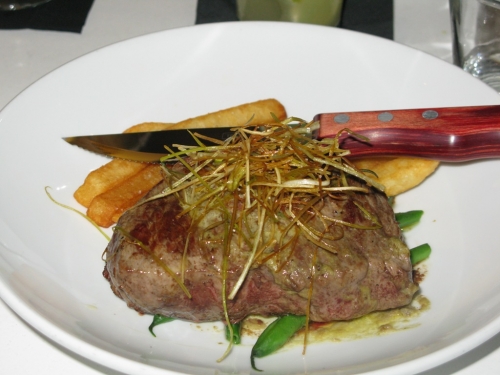 I was a little hesitant about the mushroom and wasabi sauce as I don't really like mushrooms or super hot food, but it was just the right amount of heat and the flavour brought the whole dish together.
Waz
thought the crispy leek "was awesome and made the meal". Any of the leftover sauce was mopped up with remaining slices of bread.
I'm not sure if I can blame the cocktails or the comfy seating, but the hour and a half we had given ourselves to eat before our movie started flew by. Sadly we had to skip coffee and dessert, settling instead on choc tops.
The Stunned Mullet
24 William St, Port Macquarie.
Ph: 02 6584 7757
Lunch from 12pm, Dinner from 6pm