Tommorrow, my assistant celebrates 30 years at our workplace. Quite a remarkable achievement, she has been working there since long before I was even a twinkle! For this I feel she deserves some sort of celebration cake (and a straight jacket, seriously
30
years??).
I conducted some secretive research to suss out her favourite cake type (Hey J, what's your favourite type of cake?) and recieved a very clear response of CHOCOLATE!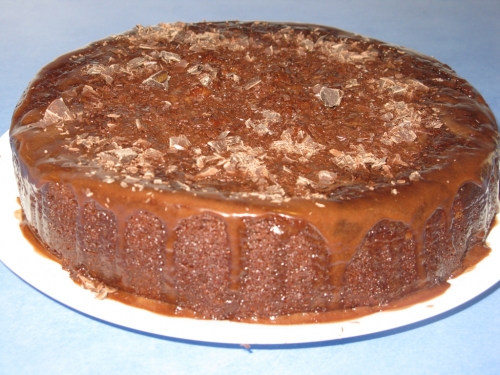 Recently, I made the delightfully gooey
raspberry and chocolate pudding
from
Super Food Ideas
, and I really wanted to turn that pudding into a rich, moist chocolate and raspberry cake that would do justice to this special occasion. And to provide an awesome morning tea on an otherwise ordinary Thursday. :)
After a bit of hunting, I found this chocolate and raspberry cake from the back of a
Creative Gourmet
pack of frozen raspberries.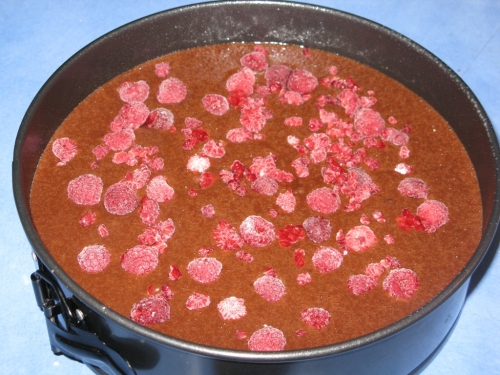 With a full block of dark chocolate, extra cocoa, a full stick of butter and 2 cups of sugar, this cake is anything but delicate. Sinfully rich, thick and super chocolatey, the addition of raspberries adds unexpected little bursts of sour/sweet to balance out the chocolate.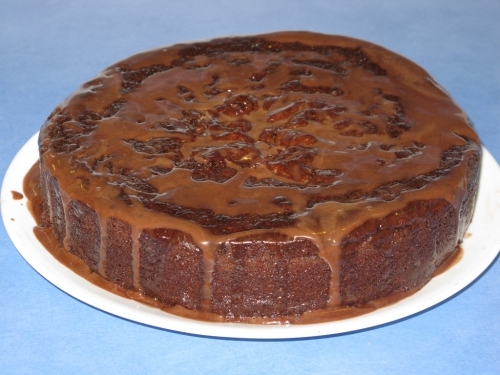 It is not a cake for everyday, but for once in 30 years, I think it's just about perfect. Congratulations J!
Chocolate and Raspberry Cake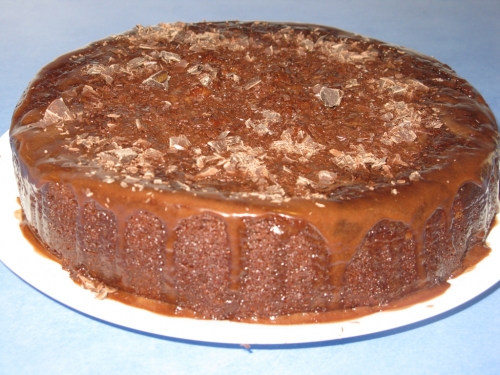 The cake is a very simple melt and mix. It is almost a mudcake in density, it will feed at least 10 people as it is so rich.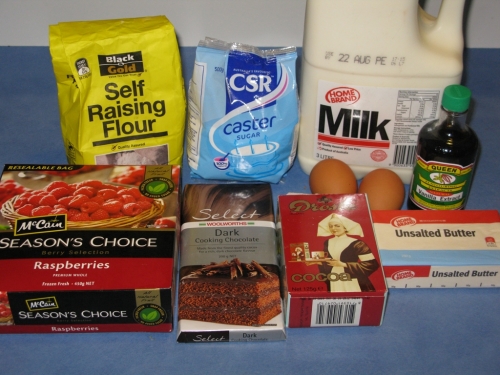 Preheat a conventional oven to 160°c (fan forced 150°c).
In a heatproof bowl, place 250g chopped unsalted butter, a 200g block of dark cooking chocolate, 2 cups of castor sugar and 2 cups of milk.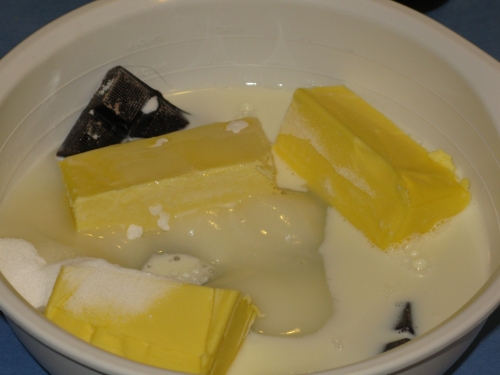 Place over a saucepan of simmering water and stir as it slowly melts together.
It will go through a few weird looking stages,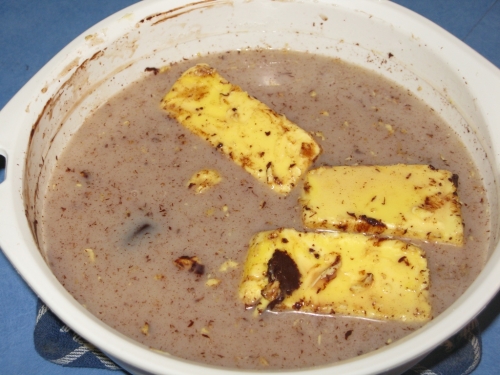 but keep at it and it turns into black gold.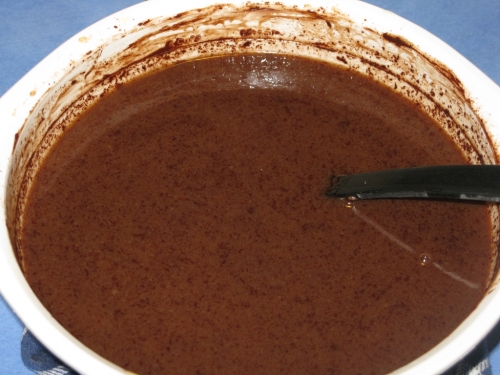 Once smooth and melty, take it off the heat and let it cool down a little.
Add two eggs and 1 teaspoon of vanilla and whisk until combined.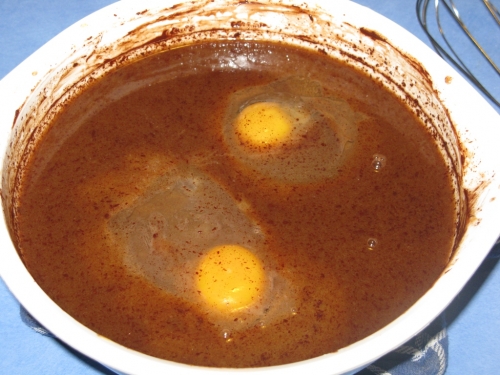 Sift in 1½ cups self raising flour and ¼ cup good quality cocoa and whisk until well incorporated.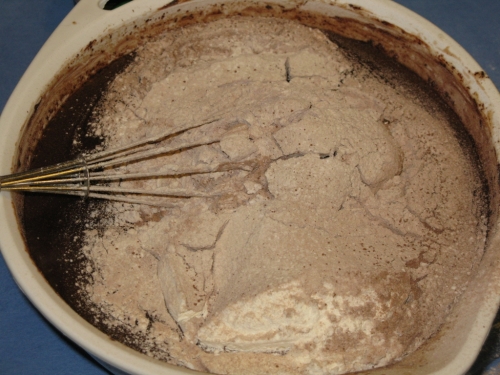 Pour batter into a prepared 24cm springform cake tin, the batter is quite runny, it leaks out a bit from the bottom of my tin so place it on an oven tray if you have the same problem.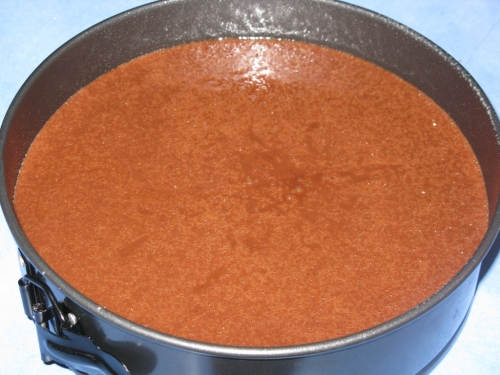 Sprinkle 1 cup of frozen raspberries over the cake batter. They will sink into the cake as it cooks.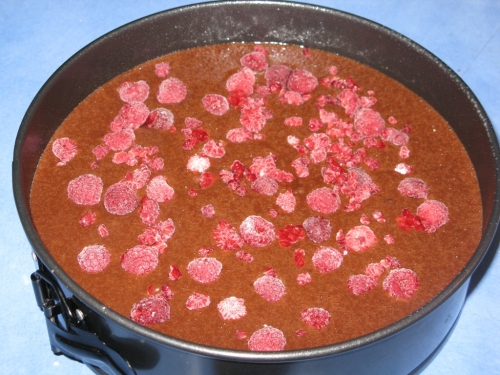 Bake for 1 hour 15 mins or until a skewer comes out clean. The cake is meant to be moist, but not gooey runny.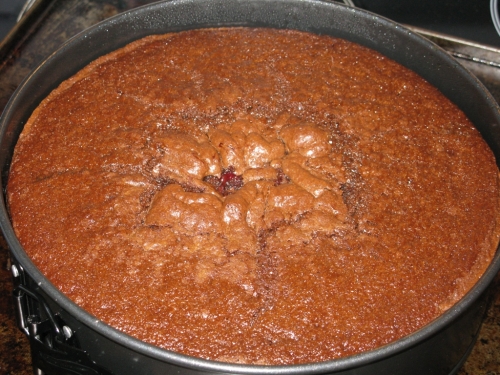 Remove and allow to cool in tin for 10 mins, then transfer to a cake rack to finish cooling entirely. This is a very soft, moist cake, so treat it gently.
To top, either make a very simple chocolate frosting or ganache and dribble over the top over the cake. I cheated with a prepared chocolate frosting sachet made thinner with some thickened cream.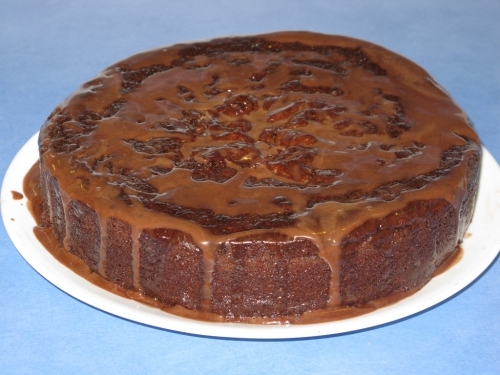 Then I shaved some dark chocolate to sprinkle over the top, what's one more calorie going to do to a cake like this? May as well embrace the chocolatey goodness.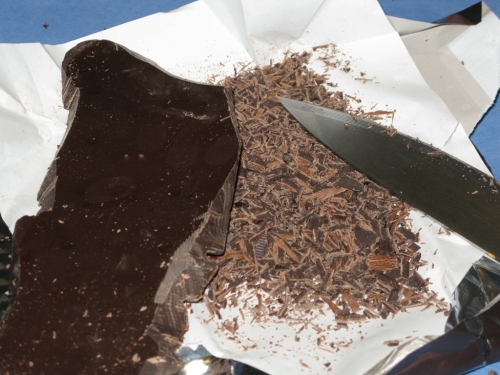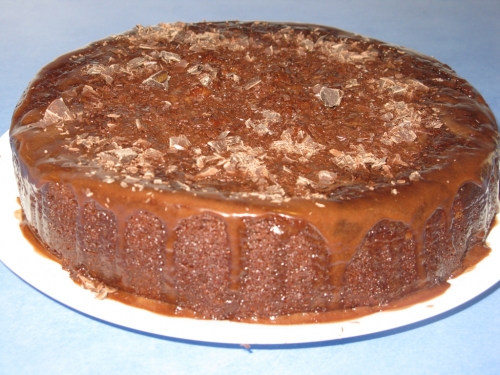 To serve tomorrow, I will sprinkle with extra chocolate shavings, and possibly some more raspberries. After all, it's only once every 30 years, it had better be worth while! :D