10 easy steps to a gourmet Saturday breakfast.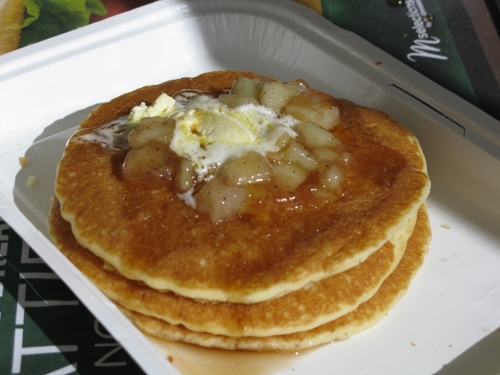 Step 1: Create an excuse to get yourself out of the house
alone
. Mentioning clothes and shopping in the same sentence may help.
Step 2: Drive to your nearest
McDonalds
restaurant, for me this is 22mins away; aim to get there BEFORE 10:30am. Anticipate slow serving times and indecisive people in front of you, allow extra time for this.
Step 3: Order one serve hotcakes and two apple pies. Order eat in, not takeaway, you do not want hotcake syrup all over your car.
Step 4: Stack hotcakes on top of each other for fancy presentation. Scoop out one of the whipped butter packets neatly on top.
Step 5: Bite the end of one apple pie, insert fork and gently scrape out apple on top of hotcakes. Repeat with other pie.
Step 6: Drizzle generously with hotcake syrup.
Step 7: Admire own creativeness before destruction.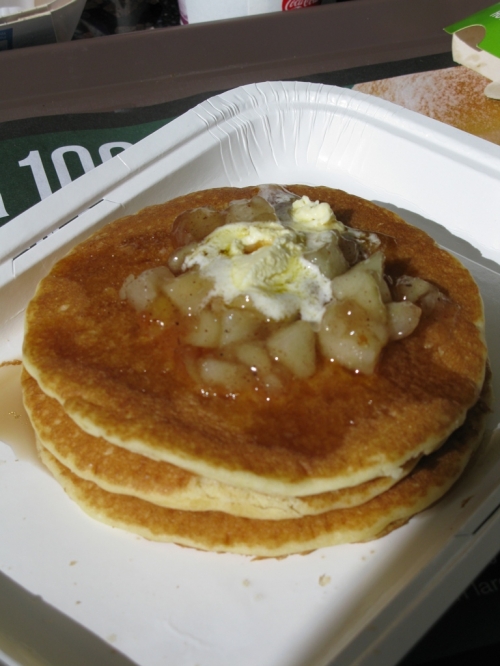 Step 8: Dunk empty pie shells in left over hotcake syrup and eat.
Step 9: Repeat steps 3-8 if desired for as long as money, stomach space or time allows.
Step 10: Return home without any form of clothes shopping to a suspicious boyfriend.
Variation: If you are lucky enough to live somewhere near a Maccas with all-day hotcakes, a caramel sundae on top of a stack is an awesome dessert (because even I think ice cream for breakfast may be a bit too much :p).