Sunday morning dawned dull and dreary looking, with ominous clouds hanging on the horizon. On a normal weekend I would have been tempted to roll over and sleep in, but today I had plans. Throwing on my gumboots I began the beautiful hour long coastal drive down to Camden Haven with a quick pit stop along the way in Port Macquarie to pick up fellow foodie JZ. Our destination: The 3rd Annual
Slice of Haven Food and Wine Festival
, held on the lawns of the
Laurieton United Services Club
, nestled at the base of North Brother on the banks of the Camden Haven Inlet.
The grey sky did nothing to diminish the crowds, who came lured by the promise of fresh oysters, chilled wine and great local food from across the Camden Haven area.
On to the all important food photos, which by the way do not include the many, many free samples of breads, ginger beers, tapenades, yoghurts, etc, as it just became way too complicated trying to juggle purchases, cameras and freebies.
Somewhat thirsty I began the day with a full glass of chilled Agent Orange from
Long Point Vineyard
($5).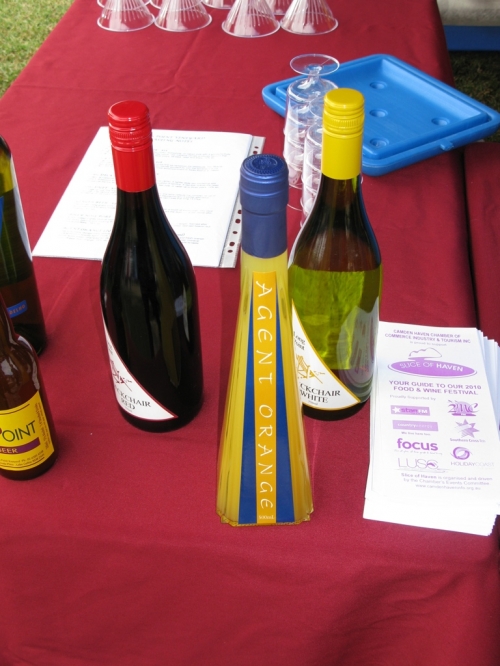 It was only 10am, and on an empty stomach the brandy probably went straight to my head, but hey, I knew from experience that this deliciously fruity liqueur sold out quickly at events like this so I wanted to get in early. And the cute martini glass with strawberry was too good to pass up.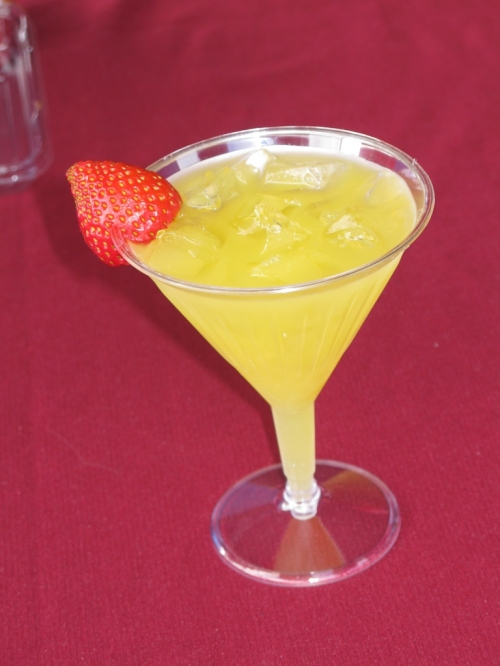 Wisely, JZ opened with a tiny but very tasty tomato and cheese quiche ($4)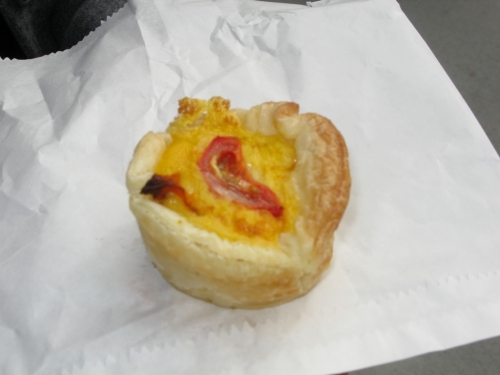 before we both over sampled the
Comboyne Culture
cheeses.
I went crazy at the Beetroot'd Cafe & Deli stand, buying the moorish sounding beetroot and sour cherry mud cake ($4)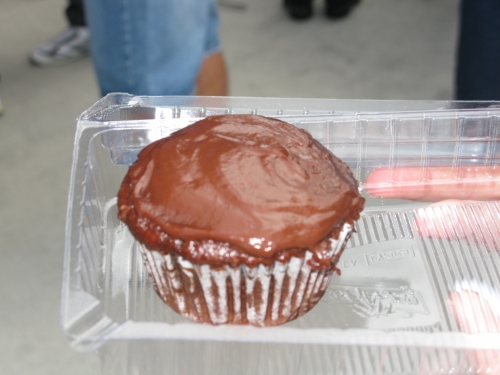 and the very addictive, crispy and salty beetroot chips ($3) that I bought mainly out of guilt as I ate most of the sample bowl while waiting for my change.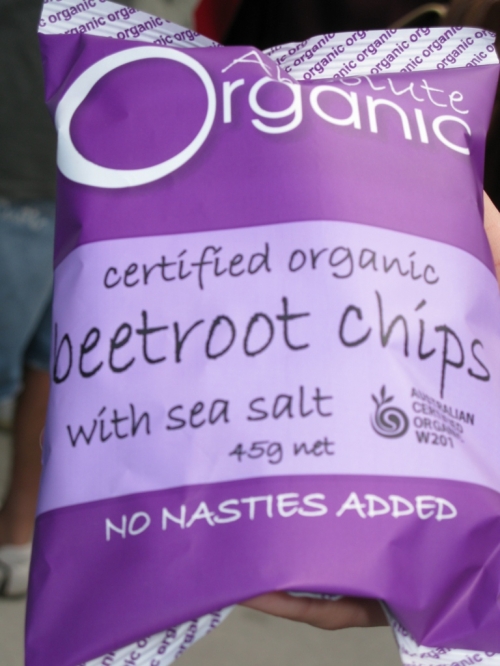 The ladies at Cassidy's Cakes were doing a roaring trade in cupcakes ($3 each),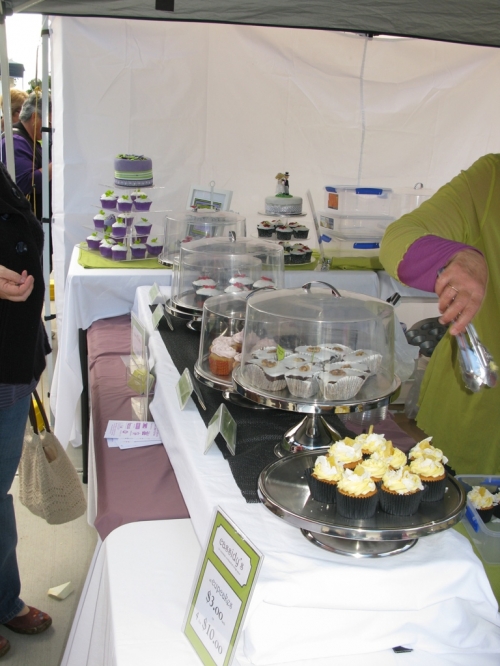 and while the chocolate mudcakes were tempting and very pretty,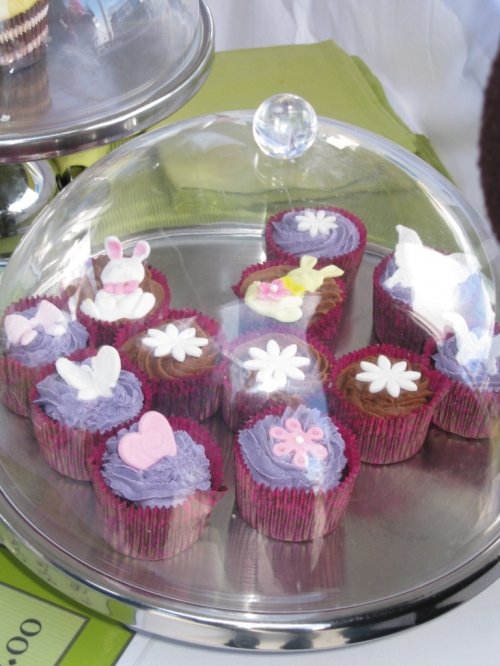 I had just demolished the beetroot mudcake, so I instead chose a plain buttercake with passionfruit icing.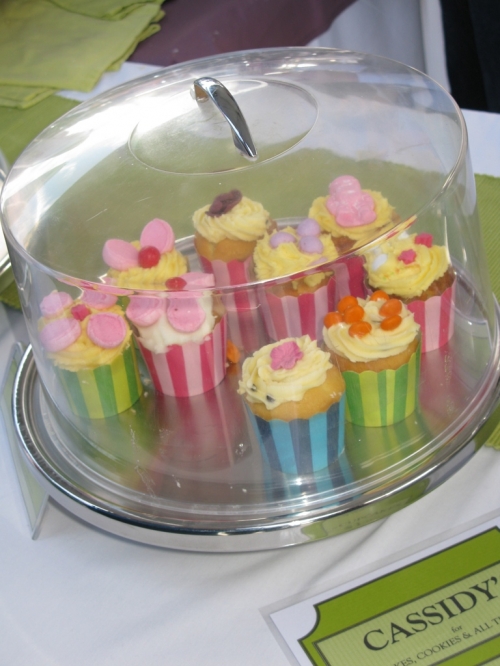 The little sign stated that they were for the "young at heart" so I felt able to specifically request the "monstery smiley one" without getting a weird look. (Check out the free chocolate freckle!)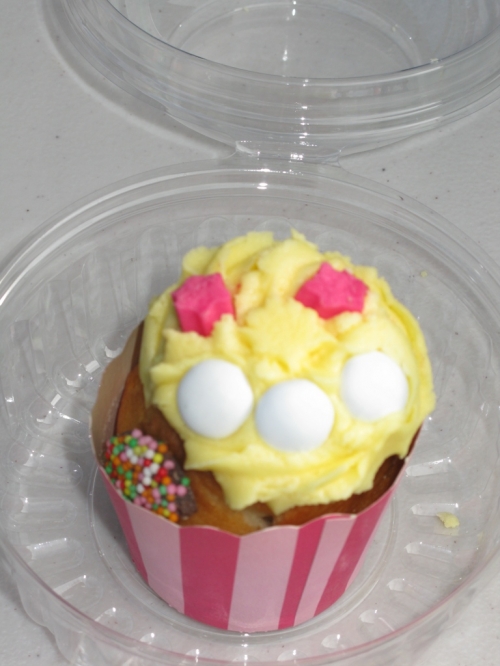 Nearby, was "
The Other Chef
" where I restocked on my favourite
Toffee Apple Syrup
($8), perfect over pancakes, ice cream, strawberries or buttercake cupcakes.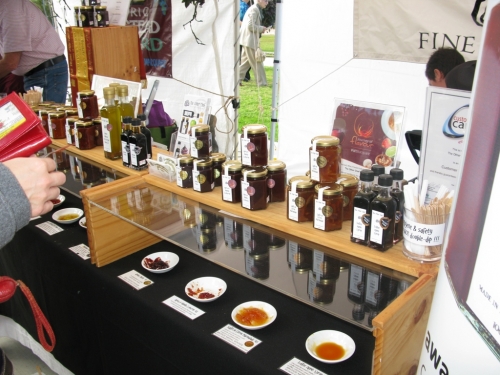 Time for something more substantial, I made us wait 10 minutes for "Screw Chips". Yes, I paid $4 for one potato, but it was awesome. Cut, deep fried, then coated in chicken salt, it was a perfect coil of crisp yet tender hot chip on a stick. Not pretty to watch me eat I'm sure, but if their fryer hadn't given out I would have happily ordered another.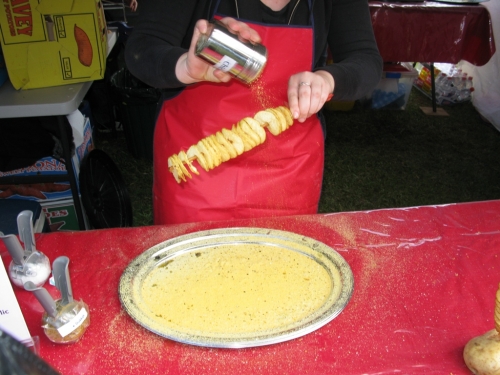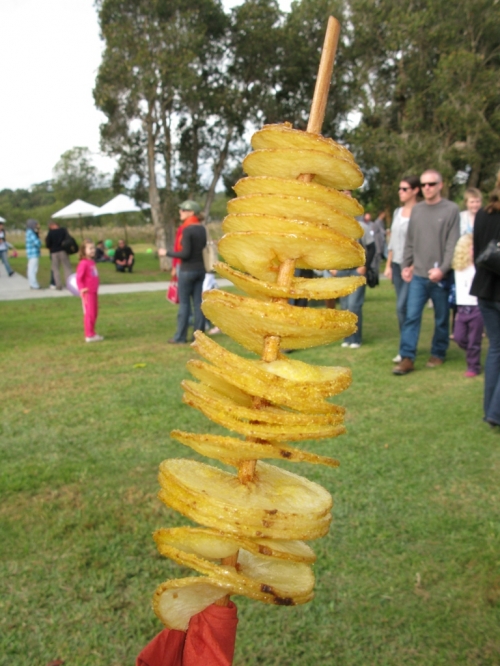 When the sun peeped out for the first and last time,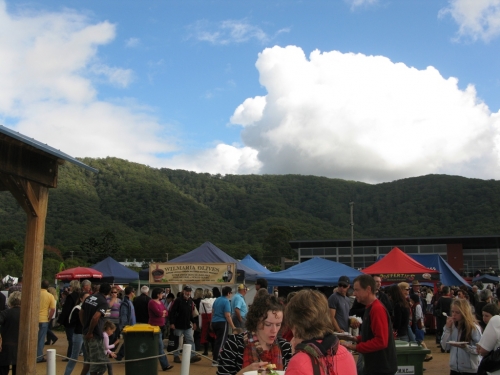 JZ felt it was the perfect time to try the Innes View Vineyards bubbles ($5) while we wondered over to find some real lunch.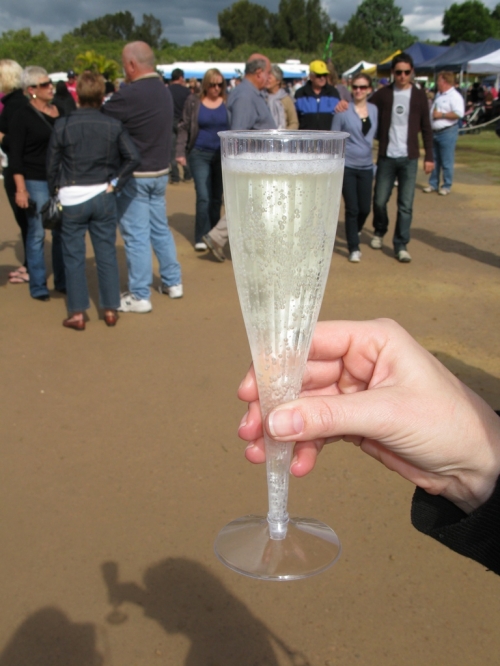 We both ordered the
Raging River Wagyu
tasting plate ($4) which was a Raging River Wagyu bite size burger with Blue cheese and Near River Beetroot Relish plus a Wagyu sausage bite with Company Farm 3 citrus sauce. Garnished with Near River Fresh Organic Greens and Company Farm Lemon Preserve. This sounded and smelt so good cooking on the BBQ that we were both halfway through before we realised that no photo had been taken. So we convinced some random to let us photograph his plate.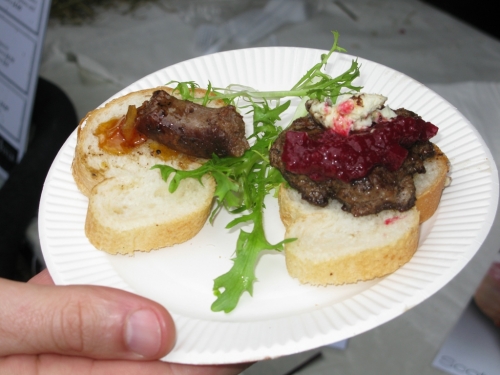 The sausage was so juicy and tasty that we went back for the Raging River Wagyu "Whirl" - with Company Farm 3 citrus sauce ($8)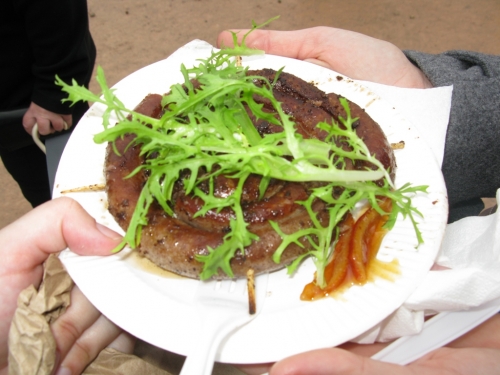 and ate it under the watchful eye of several pelicans.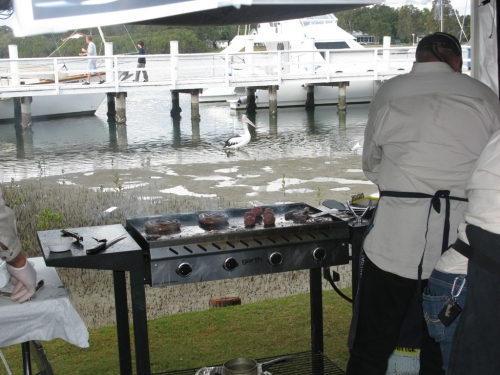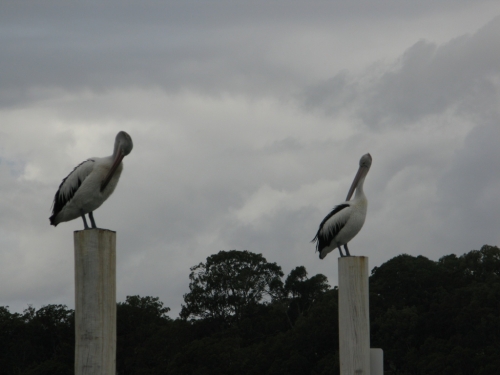 More bubbles, this time
Cassegrain's
Stone Circle Sparkling Cuvee ($5)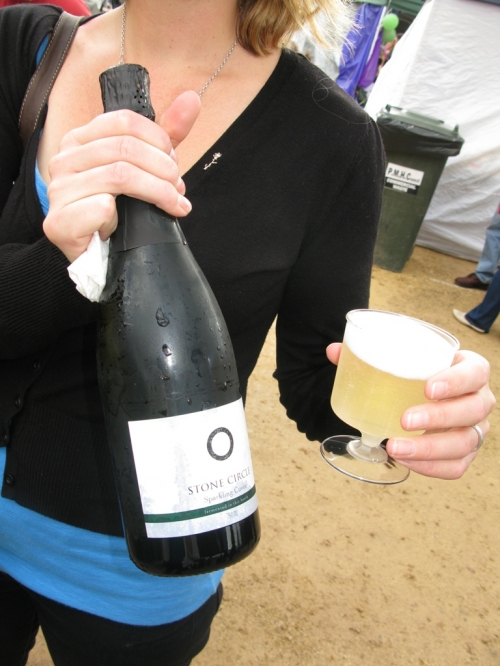 and then another glass of the Innes View, purely to get a set of the lovely plastic flutes.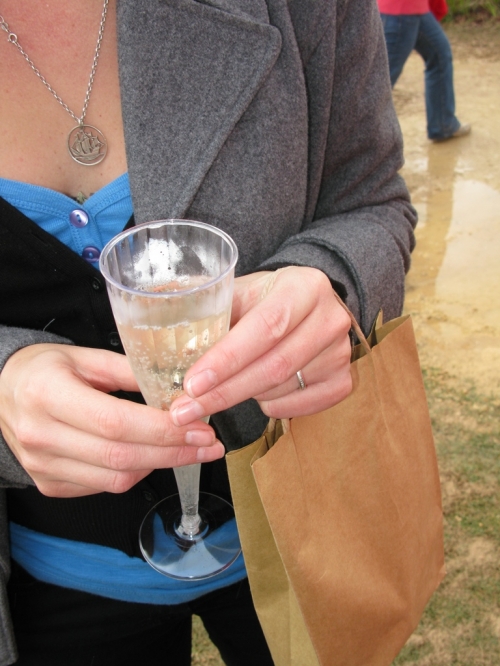 I lined up for sweet potato pokora ($5) only to have someone bump me and make them slide off my plate and land in the mud. I looked up to see someone else giving me a sad head shake. *sob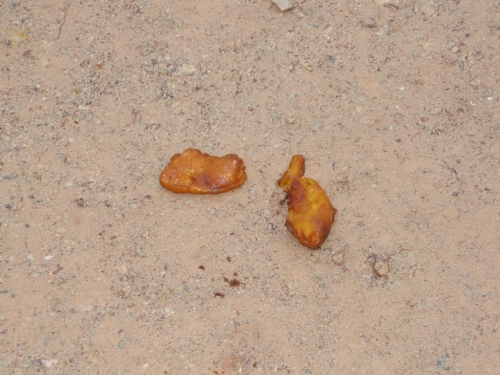 Still craving savoury, JZ tried a very juicy Moroccan Lamb Burger ($5),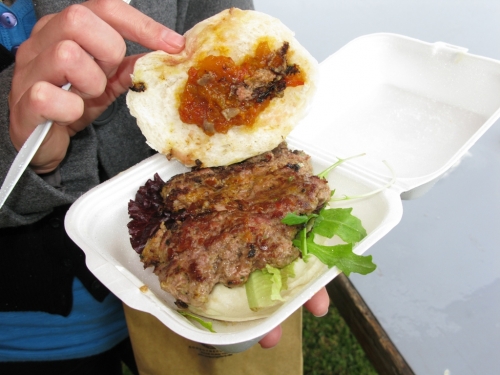 while I embraced one of the best aspects of my Dutch heritage with Poffertjes ($5). While these were lacking in presentation, they were fluffy and hot, and had a squeeze of fresh lemon (not bottled) juice that was perfect with the powdered sugar.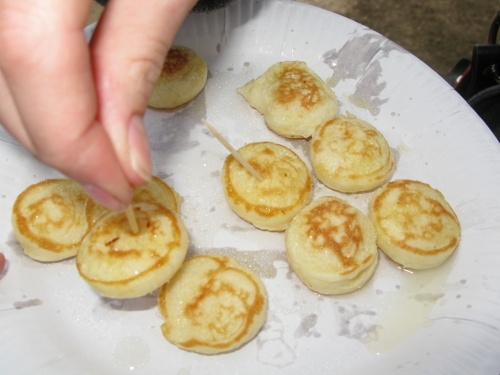 On the way out, we passed the small stand of Caramels @ Cathie, where JZ bought a Mars Bar Cheesecake ($4), and I bought the Caramel and Banana Tart ($4) to take home.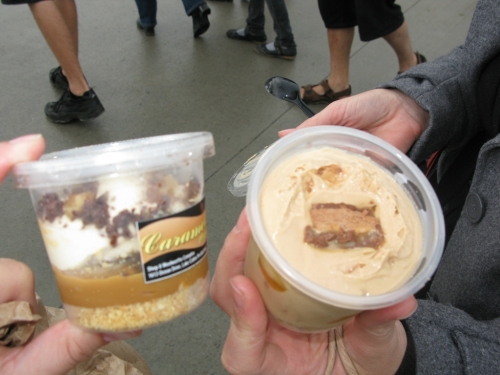 The cheesecake was demolished by the time we got back to the car, very rich and creamy, tasting exactly like the chocolate bar. Why I showed restraint in waiting until I got home to eat mine I don't know, because it was layers of fresh banana, smooth caramel and whipped cream that was sooo good, I'm wishing I had stocked up. I think a drive down to their cafe in the not too distant future is required.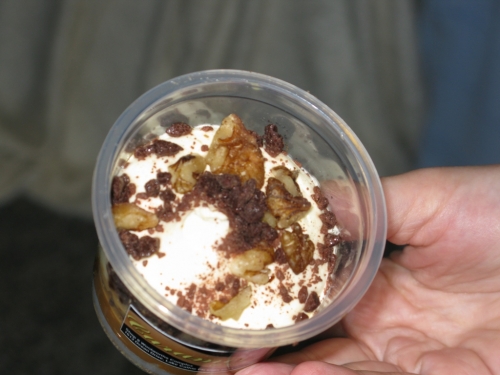 After a perfect morning, we drove home via a quick stop at the
Long Point Vineyard
to buy a bottle of the Agent Orange (as predicted they had sold out at the festival!), to digest.